Viacom Reject Takeover Offer From CBS Below Its $12.5 Billion Valuation – CWEB.com
By: Leslie Cohen
Managing Editor
CBS Corp. (CBS) makes an offer for Viacom with an all stock purchase offer with the contingency it keeps it the same management team leading the organization- at least for now. Viacom's (VIA) current valuation is $12.5 billion. Viacom rejected this offer of 0.55 shares of CBS in an all-stock deal for each share of Viacom.
CBS proposes that eventually current CEO Bob Bakish would no longer run the company, and that Chief Executive Leslie Moonves and President Joe Ianniello would run the combined company for the foreseeable future.
Sumner Redstone's holding company National Amusements Inc., holds an 80% voting stake in CBS and Viacom Redstone's daughter, Shari Redstone has wanted the two companies to be combined for quite some time.
CBS (CBS) shares have not been rising. Viacom  (VIA) is still valued at a bargain with 8x forward P/E with a firm grip on streaming and content development plans moving forward.
While Viacom is a value stock at this point valued at less than 10 times earnings, it also carries an array of impressive brands owning Global Entertainment Group which broadcasts The Comedy Chanel, Spike, MTV, and Nickelodeon. It also has a sweet deal coming up with Netflix for streaming content. Viacom's assets also include Paramount Pictures Corporation, BET Networks is a division of Viacom that runs the Black Entertainment Television (BET) channel, Nick Records and Comedy Central Records
Viacom's huge library of iconic brands, and the fact that the company plans to start a Netflix (NASDAQ:NFLX) style streaming service in the near future, are all compelling arguments to buying into a beaten-down value stock at less than 10 times forward earnings and the fact that is looks to grow in the online streaming market.
CBS has been has lost more than 23% in the past year, but still ahead of its peers. Viacom shares are down32%.
CWEB Analyst's Reiterates a Hold Rating for CBS Corp. (CBS) 
Read Full Article and Videos CWEB.com – Trending News, Blog, Shopping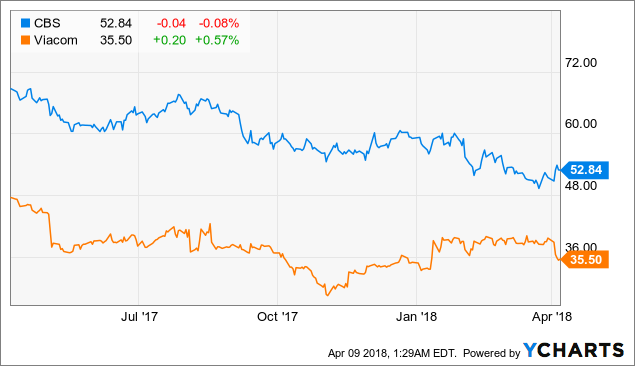 [object HTMLElement]
Disclosure: I/we have no positions in any stocks mentioned, and no plans to initiate any positions within the next 72 hours.