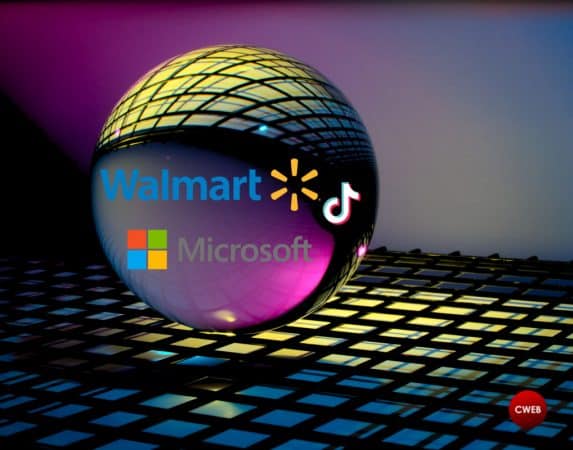 TikTok may have a buyer within as little as 48 hours. Microsoft is said to be the top contender  to purchase the company along with Walmart as the two companies' team up to buy the TikTok. The sale could reach as high as 30 billion dollars. Walmart shares increased  more than 3% on the news.
Kevin Mayer, CEO of TikTok has resigned.Kevin Mayer was only with the company for three months. General Manager Vanessa Pappas will take over as interim CEO. President Trump stated TikTok was a national security threat and could share information about users in the U.S to China's government.
By the authority vested in me as President by the Constitution and the laws of the United States of America, including the International Emergency Economic Powers Act (50 U.S.C. 1701 et seq.) (IEEPA), the National Emergencies Act (50 U.S.C. 1601 et seq.), and section 301 of title 3, United States Code,
I, DONALD J. TRUMP, President of the United States of America, find that additional steps must be taken to deal with the national emergency with respect to the information and communications technology and services supply chain declared in Executive Order 13873 of May 15, 2019 (Securing the Information and Communications Technology and Services Supply Chain).   Specifically, the spread in the United States of mobile applications developed and owned by companies in the People's Republic of China (China) continues to threaten the national security, foreign policy, and economy of the United States.   At this time, action must be taken to address the threat posed by one mobile application in particular, TikTok.
Kevin Mayer was the CEO of TikTok and COO of its parent company ByteDance Ltd until his resignation on August 26, 2020. Prior to his appointment as TikTok CEO, Mayer was the Chairman of Direct-to-Consumer & International division of The Walt Disney Company. He was previously the senior executive vice president and chief strategy officer of Disney where he managed their acquisitions of Pixar, Marvel Entertainment, Lucasfilm, and 21st Century Fox. He also directed the divestitures of Miramax and ABC Radio. Source WikiNews
TikTok, a video-sharing mobile application owned by the Chinese company ByteDance Ltd., has reportedly been downloaded over 175 million times in the United States and over one billion times globally.   TikTok automatically captures vast swaths of information from its users, including Internet and other network activity information such as location data and browsing and search histories.   This data collection threatens to allow the Chinese Communist Party access to Americans' personal and proprietary information – potentially allowing China to track the locations of Federal employees and contractors, build dossiers of personal information for blackmail, and conduct corporate espionage. Source: White House
Walmart Inc. (NYSE:WMT)'s CEO Doug McMillon has been with Walmart Inc. (NYSE:WMT) since 2014. He is considered the genius who took Walmart to the next level of e-commerce operations and soon in direct competition with Amazon. From 2009 to 2014 he was president and CEO of Walmart Inc. (NYSE:WMT) International. From 2005 to 2009 he served as president and CEO of Sam's Club.
Walmart has launched drive in movie theaters in parking lots to let friends and family enjoy amazing movies outdoors in a safe environment. Walmart is dedicated to help us get through the health pandemic of  the   Covid-19 outbreak.
NYSE: WMT      CWEB Analysts view the stock as a long term growth and a great addition to your investment portfolio with an upward momentum of $1000 by 2021 with direct competition to Amazon.