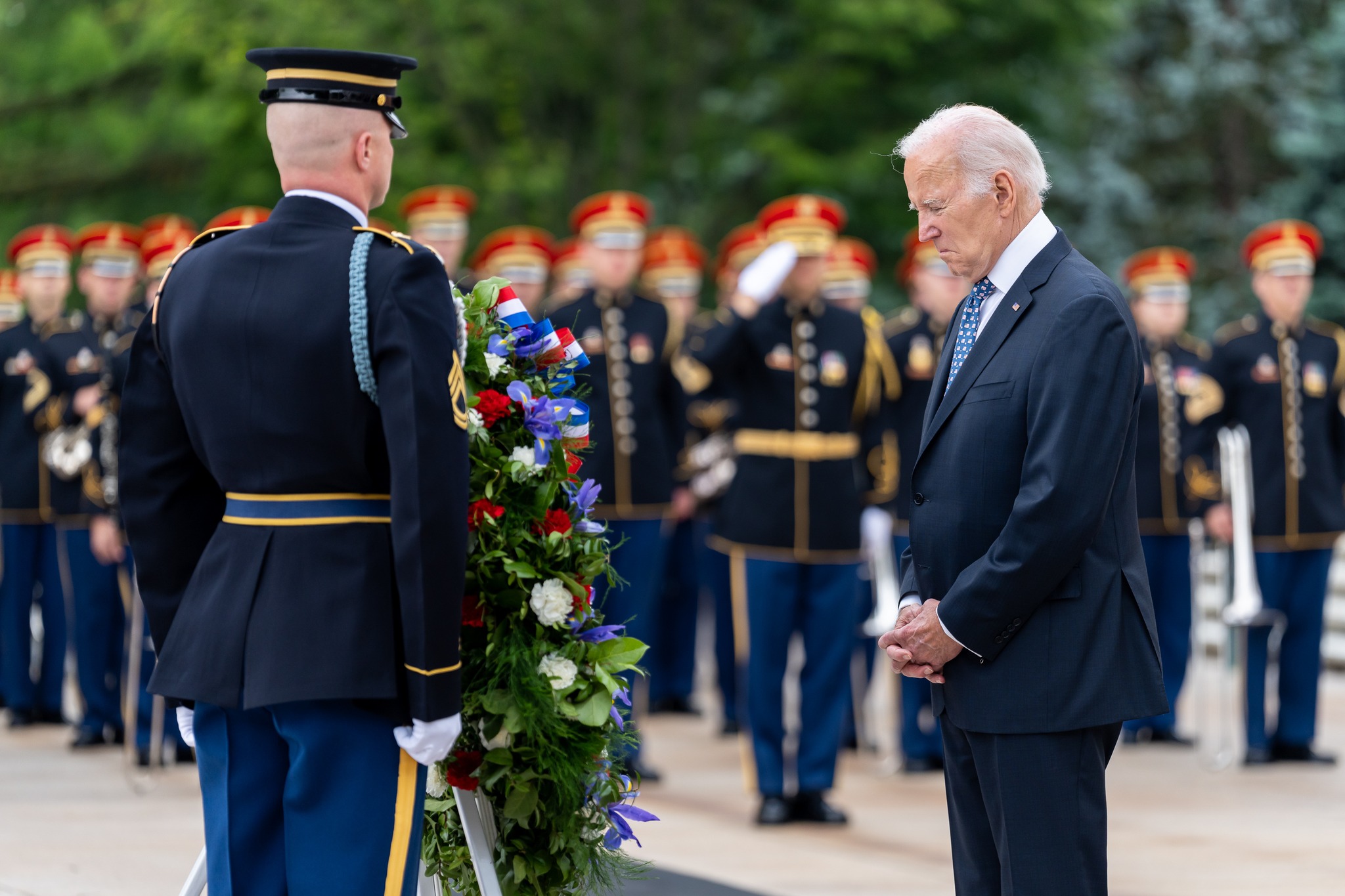 President Joe Biden delivered a warm, yet strong address on Memorial Day where he said that it was "a sacred obligation" to take care of veterans and their families and more. The president laid a wreath at a ceremony in the Arlington National Cemetery in Virginia, on May 2. Others who spoke at the somber ceremony included the Joint Chiefs of Staff and the Defense Secretary.

President Joe Biden, Vice President Kamala Harris, Joint Chiefs of Staff Gen. Mark Milley and Defense Secretary Lloyd Austin and others were present at a wreath at the Tomb of the Unknown Soldier, in the Arlington National Cemetery, in Arlington Virginia. The White House said that about 3,000 people were at the service.

President Biden said that his administration had taken care of veterans and their families and called it a "sacred obligation" that was "not based on party or politics" but was based "on a promise—a promise to unite all of us."
OrganicGreek.com Vitamin Bottles. Hydrogen Alkaline Generator Water + Filter 4 in 1 Design 500mL (16.9 FL OZ) for Only $8.99

He continued by saying that the administration had fulfilled the promise by passing over "25 bipartisan laws" that support the nation's service members and their families as well as caregivers and survivors.
Join me as I honor our fallen heroes at the 155th National Memorial Day Observance. https://t.co/rKush3ip8d

— President Biden (@POTUS) May 29, 2023
On a personal note, the President remembered his son Beau Biden whose death was due to cancer and noted that Tuesday, would be Beau's eight death anniversary. Although Beau didn't die in the battlefield, he was a military man.

Beau Biden had been deployed as a major in the United States Army National Guard in Iraq. Biden spoke of the connection between brain cancer with the burn pits Beau had been exposed to in Iraq.

The Department of Veterans Affairs has said that massive open-air burn pits that were often located near military bases might have contributed to both short terms and long-term health conditions for those who were exposed to toxic fumes released by these burn pits.

President Joe Biden and first lady Jill Biden hosted a breakfast before the wreath laying ceremony at Arlington, on Monday. The invitees included the following:
members of veteran's organizations
members of military service and military family organizations
surviving family members of U.S. troops and
officials of administrative services from different departments including the Department of Defense.
Celebrity News Update. Premier Jewelry designer and manufacturer fashion house ParisJewelry.com has started manufacturing a new custom line of celebrity jewelry designs with 30% Off and Free Shipping. Replenish Your Body- Refilter Your Health with OrganicGreek.com Vitamin Bottles, Vitamins and Herbs. Become a WebFans Creator and Influencer.
ParisJewelry.com 14k Yellow Gold 1/4 Carat Round 4 Prong Solitaire Created Diamond Stud Earrings 4mm for Only $59
View President Joe Biden As He Celebrates Record Breaking Job Creation Report