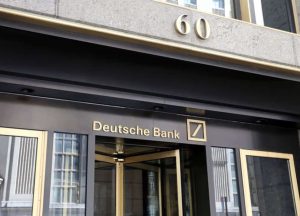 Deutsche Bank AG (NYSE:DB) issued its earnings results on Wednesday, April 29th., 2020 reporting $0.02 EPS for the quarter, topping analysts' consensus estimates of ($0.11) by $0.13.
The bank has taken steps to reduce expenses, that showed in results over the past few quarters.
Deutsche Bank AG issued revenue guidance of $7.059-7.059 billion. Prior consensus revenue estimate was $5.7 billion.
CEO Christian Sewing has been a member of the Management Board since January 1, 2015 and Chief Executive Officer since April 2018. On July 7, 2019 he took on additional responsibility for the newly established Corporate Bank and the Investment Bank.
Deutsche Bank began a major restructuring exercise well before the onset of the global pandemic.
"I am delighted that Claudio will lead our new growth pillar. He has made a major contribution since joining Deutsche Bank in December 2018 and possesses all the qualities and energy needed to lead this strategically vital business," Mr von Rohr president of Deutsche Bank.
The new international private bank business will bring together wealth management divisions across Europe, the Americas, Asia, The Middle East , Africa with combination of private client, new clients with banking businesses in Italy, Spain, Belgium and India.
Top Mutual Fund Holders
Holder Shares Date Reported % Out Value
Vanguard International Stock Index-Total Intl Stock Index 33,324,252 Jan 30, 2020 1.61% 304,916,905
Vanguard Tax Managed Fund-Vanguard Developed Markets Index Fund 12,898,542 Dec 30, 2019 0.62% 100,350,656
iShares Core MSCI EAFE ETF 8,709,987 Feb 28, 2020 0.42% 75,951,086
iShares MSCI EAFE ETF 8,483,966 Feb 28, 2020 0.41% 73,980,183
Franklin Mutual Series Fund-Mutual Global Discovery Fund 6,644,039 Dec 30, 2019 0.32% 51,690,623
Vanguard International Stock Index-Vanguard European Stock Index 4,051,072 Jan 30, 2020 0.20% 37,067,308
Fidelity International Index Fund 3,993,052 Feb 28, 2020 0.19% 34,819,413
Top Institutional Holders
Holder Shares Date Reported % Out Value
Capital Research Global Investors 77,277,774 Mar 30, 2020 3.74% 496,123,309
Vanguard Group, Inc. (The) 65,999,829 Mar 30, 2020 3.19% 423,718,902
Hudson Executive Capital, LP 64,861,476 Mar 30, 2020 3.14% 416,410,675
Feinberg Stephen 62,035,000 Mar 30, 2020 3.00% 398,264,700
Goldman Sachs Group, Inc. 35,517,971 Mar 30, 2020 1.72% 228,025,373
The company's Zacks Consensus Estimate for the current-year loss has widened to 41 cents from 31 cents over the past 60 days. It currently carries a Zacks Rank #3 (Hold).
CWEB Analyst's have issued a Buy Rating for  Deutsche Bank and upside of $20 – $40  in 2021
Pressure on margins due to low interest rates and declining fee income is primarily responsible for the decline in revenues. Further, challenging business conditions in the domestic economy might deter top-line growth.  No pressure on margins are expected any time soon. Further, positive business conditions in the domestic economy and in North America will increase the top-line growth.
CWEB.com is not registered as an investment adviser with the U.S. Securities and Exchange Commission. Rather, CWEB.com relies upon the "publisher's exclusion" from the definition of investment adviser as provided under Section 202(a)(11) of the Investment Advisers Act of 1940 and corresponding state securities laws.