DraftKings Inc.  (NASDAQ:DKNG) investors stock tripled in just two months and should rise long term also. Gaming and esports have will continue to be favored as well as gambling. Fundamentally, DraftKings stock is fairly valued. The stock trades between $35 and $43 per share.
DraftKings (DKNG) rose 2% in Thursday's after-hours trading when the sports betting company announced the up size and pricing of its underwritten public offering of 40 million shares of Class A common stock.
The stock scores 7 Buy ratings versus 1 Hold rating adding up to a Strong Buy analyst consensus. The $43.29 average price target implies 6% upside potential in the shares over the coming year. (See DraftKings stock analysis on TipRanks).[i]
DraftKings has become the world's leading daily fantasy sports platform, an innovator in American online sports betting.
DraftKings was established in 2012 by Jason Robins, Matthew Kalish, and Paul Liberman, former Vistaprint employees. In April 2020, DraftKings became a publicly traded company through a reverse merger with a special-purpose acquisition company.[ii]
Matthew Kalish President, DraftKings N.A. and Co-Founder is listed in the Forty Under 40 list.
In  2019 DraftKings announced a deal with Caesars Entertainment to expand into the 13 states where Caesars operates casinos, should those states clear the way for sports betting.
CWEB Analysts see the stock as a potential for long and short term growth post pandemic.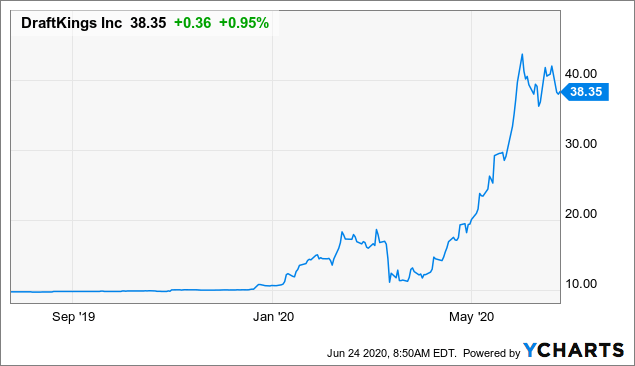 Major Holders
48.94%  % of Shares Held by All Insider
10.83%  % of Shares Held by Institutions
21.21%  % of Float Held by Institutions
91 Number of Institutions Holding Shares
[i] https://www.tipranks.com/stocks/dkng/stock-analysis
[ii] https://en.wikipedia.org/wiki/DraftKings
CWEB.com is not registered as an investment adviser with the U.S. Securities and Exchange Commission. Rather, CWEB.com relies upon the "publisher's exclusion" from the definition of investment adviser as provided under Section 202(a)(11) of the Investment Advisers Act of 1940 and corresponding state securities laws.