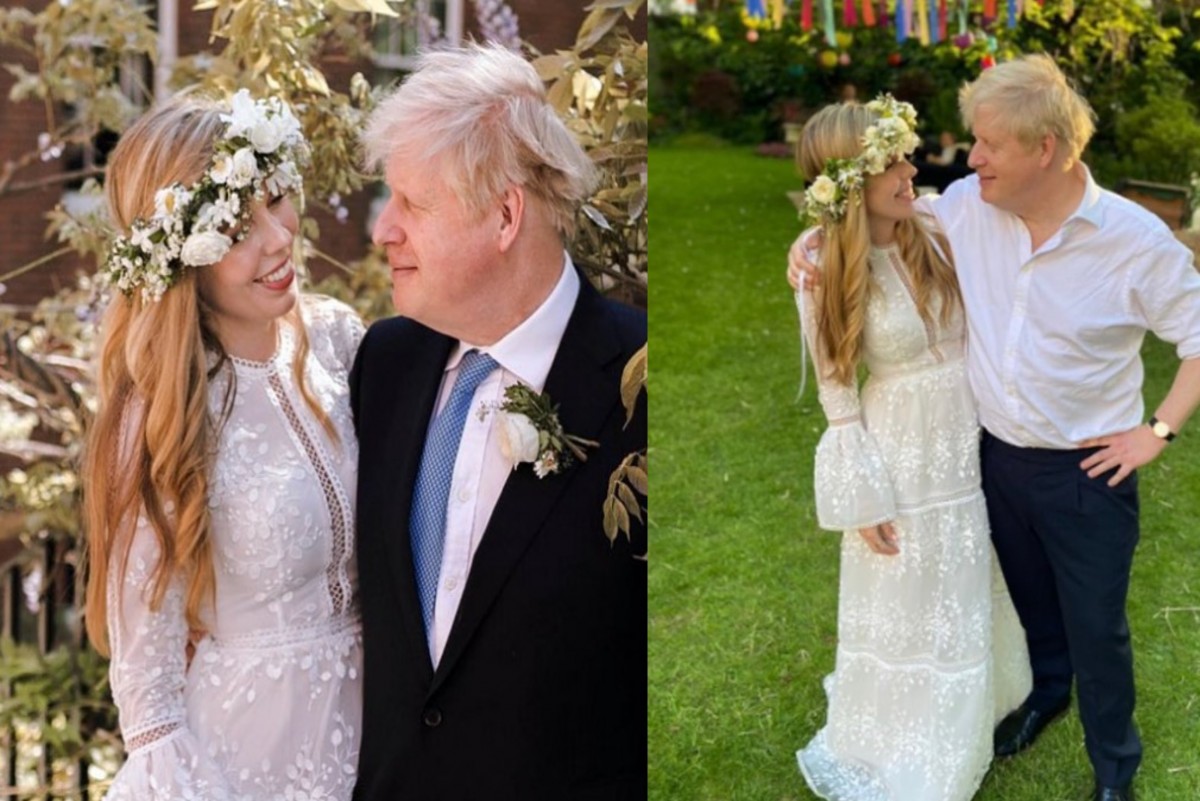 Yes, you read it right. Boris Johnson has got married for the third time and this time the 56-year old Prime Minister of the United Kingdom has married his fiancée the 33-year old Carrie Symonds. The couple got married on Saturday at the Catholic Westminster Cathedral. If you are wondering, just like I did about how a twice divorced man could get married under Catholic law, his first two weddings were civil ceremonies and not conducted in a Roman Catholic church so this is his first…till death do us part wedding.
Boris and Carrie had a small ceremony that was attended by few guests. Photos of the lovey dovey couple were released after a reception that took place in the gardens of 10 Downing Street, the official residence of the Prime Minister. A bigger celebration is expected to take place come summer.
In one of the official photographs released Carrie is wearing a flowing white lace gown by Costarellos which costs 2,870 pounds. She has a tiara of flowers in her hair. She did not wear a veil. In one of the photos Johnson's unruly hair is brushed to some extent but the tie in his smart dark suit is slightly crooked. The other picture has a more casual look after Johnson discards his jacket and tie and unbuttons the top button of his white shirt and rolls up his sleeves to his elbows, portraying his preferred casual look.
Some of the guests who were seen at or leaving No. 10 included his father, his children, old son and musicians who had reportedly played classical music as she walked down the aisle, before the ceremony. There was a picture of one year son Winfred in a field of bluebells, which might suggest the "something blue" in their wedding.
Less than a week earlier, the couple has send cards that said save-the-date to guests telling them to keep July 30 free. However, it was said that the couple had been secretly planning a small wedding ceremony from the past few months.
Close aides and even top advisers were surprised by the cloak and dagger arrangements. Father Daniel Humphries who officiated the ceremony had baptized their one-year old son. Later, cathedral chaplain Father Michael Donaghy also said that he had no prior information about the VIP parishioners who were getting married in the Catholic church.
Later, congratulations poured in from many Tories as well as from Labor though he did face flak from some Labor members who called his wedding a diversion from the current problems that he has been facing.
Before their marriage Boris Johnson and Carrie Symonds were the first unmarried couple to live in 10 Downing Street. After their marriage Johnson became the first Prime Minister to get married while in office, in almost two centuries. Lord Liverpool had married Mary Chester in 1822.
Credit Photo Carrie Symonds Instagram