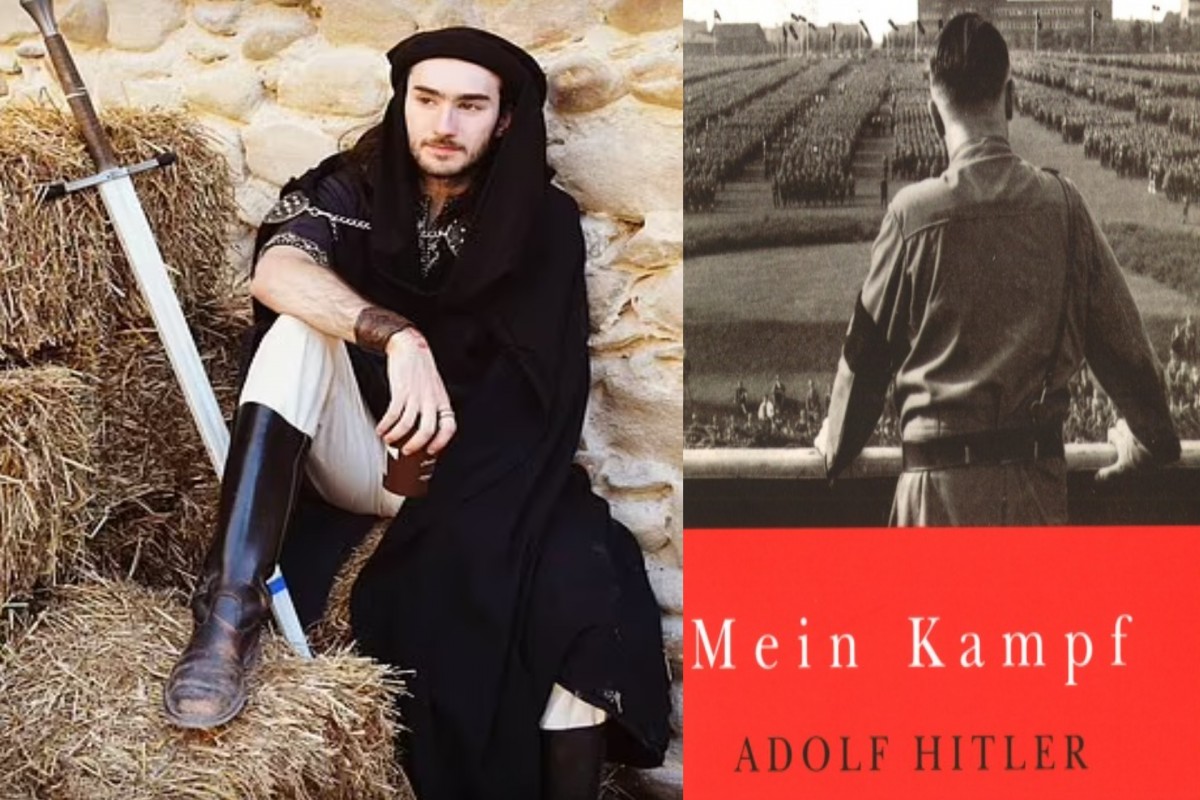 Police raided the home of the man identified as Damien T. After he was arrested for the violent attack when he slapped Emmanuel Macron. "Then the man slapped the president in the face, before Macron was pulled away by security guards."
A second man identified as Arthur C, is now in  custody for swearing loudly at the President shouting "Down with Macronie!"  which has been  a reference to the Macron administration. Macron has been in office for four years. Both men were also shouting Royalist slogans linked to far-Right movements in France.
According to Le Parisien he is a medieval times enthusiast who dresses up in costumes of that era and takes part in re-enacments as it appears from his Instagram profile.
A source told the outlet he lives "in a kind of parallel world made of role-playing games, simulations of medieval fights."
Le Figaro adds that he also practices kendo, a Japanese martial art.
The warning published in right-wing magazine, Valeurs Actuelles, claimed France was on the brink of civil war as a result of the president's failure to tackle extremists.
The move was welcomed by Marine Le Pen, leader of the right-wing National Rally party, who is widely seen as Macron's main challenger in the next presidential race 2022.
Macron was shaking hands with people in the public in Tain-l'Hermitage  where he was attacked. The perpetrator is  described as a medieval enthusiast. When the police raided his home, they found weapons and other paraphernalia of people who dress up in costumes in the era of medieval times. Weapons and a copy of Adolf Hitler Mein Kampf were also  found at his home.
Information was found on his Instagram page taking place of the reenactments.
Macron is looking to win the votes for the presidential elections in 2022 in two weeks for second term in office.
On his Instagram page Damien T. After he describes himself as part of a national federation of historic European martial arts, alongside pictures of himself dressed in costumes from the Middle Ages and carrying a long sword.
Macron was in the second stage of the Tour de France in the territory, a spokeswoman for the Elysee Palace said: "He was not seriously injured in the incident.
Macron called for "peace across France" and called on people to "respect each other." "Politics has nothing to do with violence," Macron's Prime Minister Jean Castex criticized the attackers.
"In the United States it's the opposite: the Secret Service decides if a trip is seen as too dangerous and no one opposes them, not the people in charge of protocol or even the president," Jean-Pierre Diot, a former member of France's specialist VIP police protection force, told Le Parisien.