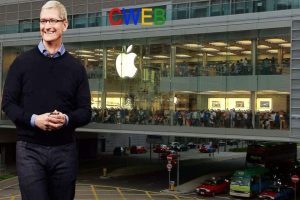 Apple Inc. (AAPL) Nasdaq is creating a $100 million program to promote racial justice inside Apple. The company will be stepping up its efforts in hiring diversity by hiring and doing business with more increase spending with black-owned companies.  Apple will also become more diverse and equal in its hiring practices by hiring more developers to confirm its beliefs about racial equality.
Tim Cook Tweets-" The unfinished work of racial justice and equality call us all to account. Things must change, and Apple's committed to being a force for that change. Today, I'm proud to announce Apple's Racial Equity and Justice Initiative, with a $100 million commitment."
Tim Cook CEO  Apple is a hugely influential player in technology and sits on the Board of Nike as well as on the Board of Trustees of Duke, from where he got his MBA in 1988.
If Steve Jobs could only see the day as Tim Cook Chief Executive Officer leads Apple to the most successful company in the world with such great achievements.
Apple leads the world in innovation with iPhone, iPad, Mac, Apple Watch, and Apple TV. Total Revenue Grows: Services Revenue Reaches New All-Time High of $13.3 Billion. Source: https://www.apple.com/newsroom/2020/04/apple-reports-second-quarter-results/
Apple's App Store ecosystem facilitated over half a trillion dollars in commerce in 2019. Apple today announced the App Store ecosystem supported $519 billion in billings and sales globally in 2019 alone. The new study, conducted by independent economists at Analysis Group, found that the highest value categories were mobile commerce (m-commerce) apps, digital goods and services apps, and in-app advertising. Of the $519 billion the App Store ecosystem supported in 2019, the study found that sales from physical goods and services accounted for the largest share, at $413 billion.  Source Link: https://www.apple.com/newsroom/2020/06/apples-app-store-ecosystem-facilitated-over-half-a-trillion-dollars-in-commerce-in-2019/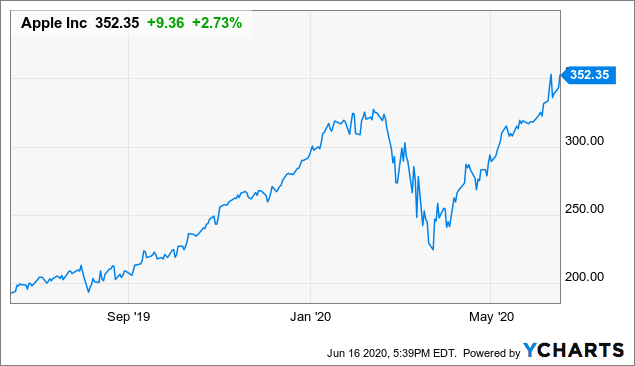 [object HTMLElement]
Top Institutional Holders
Holder  Shares  Date Reported  % Out    Value
Vanguard Group, Inc. (The)          336,728,608        Mar 30, 2020      7.77%    85,626,717,728
Blackrock Inc.     274,684,501        Mar 30, 2020      6.34%    69,849,521,759
Berkshire Hathaway, Inc                245,155,566        Mar 30, 2020      5.66%    62,340,608,878
Why did Warren Buffett invest in Apple?
Buffett told CNBC that he continues to buy Apple shares because of the strength of the company's brand and ecosystem.
Analysts are also upbeat about  NASDAQ: AAPL stock outlook because of its strong cash flows, healthy balance sheet, higher margins and excellent returns. On returns to investors, Apple has a dividend yield of about 1.07 per cent, which is supported by a strong payout ratio of about 24 per cent. Similarly, the company has spent billions in share repurchases: only in 2019, this figure stood at around $67 billion.
Today Apple was upgraded by Citibank $400
CWEB Analyst believe Apple will reach $1000 by 2021.
CWEB.com is not registered as an investment adviser with the U.S. Securities and Exchange Commission. Rather, CWEB.com relies upon the "publisher's exclusion" from the definition of investment adviser as provided under Section 202(a)(11) of the Investment Advisers Act of 1940 and corresponding state securities laws.