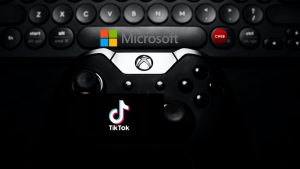 Microsoft has an interest in purchasing TikTok. Microsoft is having discussions with outside investors to help them make the purchase and finance a bid for TikTok, which is owned by Chinese company ByteDance.
The reason Microsoft would be looking for outside investors  is to  share the risk with other stakeholders. ByteDance could be worth almost a hundred billion dollars and TikTok it could be purchased between $20 and $50 billion dollars.
This is all been led by the Trump Administration and President Trump launching an investigation into the Chinese owned company due to fears set the data on TikTok is being shared with the communist government. Senator Josh Hawley demanded that Microsoft cut all ties with the Chinese Communist Party as a prerequisite of any potential acquisition of the social media platform.
This is a partial exert from the Senator Hawley to Microsoft CEO Satya Nadella:
Over the last few days, there have been a number of conflicting reports in the press  about how exactly Microsoft hopes to take control of the popular TikTok app.  To name just a few examples: The New York Times reported on July 31 that "non-Chinese investors like Sequoia Capital, SoftBank and General Atlantic could purchase a  majority stake in the app from ByteDance."1 An August 2 post on the Official Microsoft  Blog stated that current proposals "would involve a purchase of the TikTok service in the  United States, Canada, Australia, and New Zealand and would result in Microsoft owning  and operating TikTok in these markets" and noted that "Microsoft may invite other  American investors to participate on a minority basis in this purchase."2 Protocol reported  on August 3 that your company is seeking a deal that would "cut[] off all ties between  ByteDance, TikTok's Chinese parent company, and the app itself."3 And a ByteDance  internal employee letter circulated on the same day stated that "CFIUS determined that  ByteDance must fully divest TikTok's US operations" and that ByteDance has "initiated  preliminary discussions with a tech company to help clear the way for [ByteDance] to  continue offering the TikTok app in the U.S."  Based on these reports, it is not clear whether Microsoft is moving toward a  partnership with ByteDance to continue offering the app in the United States, or whether  Microsoft will be taking full and independent control of the app and its data." Let me be clear: Any resolution of the TikTok investigation that fails to sever all links between TikTok and potential proxies for the Chinese Communist Party, including but not limited to ByteDance, is unacceptable. Source: United States Senate.
President Trump says that the U.S government should get a share of the sale of TikTok because it is the U.S government actually facilitating the sale of his company.  You cannot tie a payment to a legal action. White House Gives TikTok Until September 15th to Sell Its Business.
Social Media Today reports" US Secretary of State Mike Pompeo later  clarified  that the Government was indeed considering banning the app, but less so as a form of punishment, and more due to concerns that it could be used as both a surveillance and propaganda tool for the Chinese regime"
Microsoft  has so far reported they  are not paying any fees to the U.S. government for the purchase of TikTok
The Bing search engine which is owned by Microsoft has not been banned in China.
Source: Social Media Today
Source: Senator Hawley-