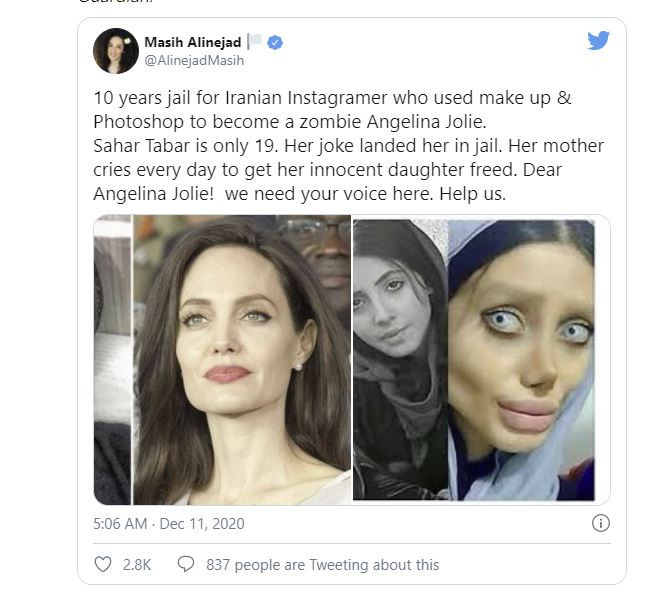 Sahar Tabar, whose real name is Fatemeh Khishvand, is an Instagram influencer who got  followed by a few hundred thousand people, 486,000, when she posted photos of herself made up as a zombie version of Angelina Jolie.
Although it began as a stunt or a joke, it had terrible repercussions for the young 19-year-old as she and three other female Instagram influencers were arrested on October 5, 2019, in Iran. The Tasnim news agency reported that she was charged with blasphemy, inciting violence, gaining income through inappropriate means and encouraging youths to corruption.
She earlier denied reports that she had undergone around 50 surgeries to look like Angelina Jolie. Eventually, she revealed that she had undergone cosmetic surgical procedures including a nose job, liposuction and the addition of lip fillers. However, she still maintained that she used makeup and editing to accomplish her look.
She said in an interview: "This is photoshop and makeup. Every time I publish a photo, I paint my face in an increasing funny way. It is a way of expressing yourself, a kind of art. My fans know that this is not my real face."
Iranian journalist Masih Alinejad told MailOnLine that she had spoken to Tabar's lawyer who confirmed a ten-year imprisonment for promoting public corruption. In a tweet, the journalist appealed to film star Angelina Jolie for help.
Source Metro UK