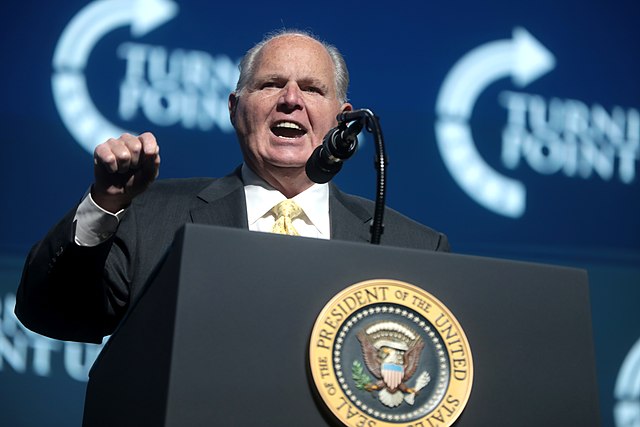 Rush Limbaugh has died  at 70 after losing lung cancer battle. The Rush Limbaugh Show host  who once likened his cancer diagnosis to a "death sentence" died today,  32 years after his radio show first aired. His wife, Kathryn, confirmed the saddened  news on the  beginning of his Wednesday morning show. "Rush will forever be the greatest of all time. Rush was an extraordinary man. A gentle giant. Brilliant, quick-witted, genuinely kind," she said.
Rush Limbaugh  was one of the premiere voices of the conservative movement in the United States since the 1990s.  The Rush Limbaugh Show was on the air for 32 years. He was inducted into the National Radio Hall of Fame and the National Association of Broadcasters Hall of Fame.
During the 2020 State of the Union Address,  former President Donald Trump awarded him the Presidential Medal of Freedom during the 2020 State of the Union Address.
Limbaugh announced his cancer diagnosis in February of last year and thanked family and friends for listening to his show. "From the moment you get the diagnosis, there's a part of you every day, OK, that's it, life's over, you just don't know when, he said
Rest In Peace Rush Limbaugh. An incredible media talent and a vitally important voice in the conservative movement. He will be missed throughout this country.

— Governor Christie (@GovChristie) February 17, 2021
Senator Rand Paul called Rush Limbaugh "a patriot".
He added: "Not many people can say they revolutionized and stayed at the top of an industry the way he did. My condolences to his family."