Elon Musk calls for Amazon breakup. Claims censorship of his book about COVID-19 after Covid-19 skeptic claims it censored his book.  Musk directed his tweet @ Jeff Bezos and the reporter  New York Times reporter Alex Berenson. Apparently, they felt it does not meet Amazon standards.
The book that was taken down is titled "Unreported Truths about Covid-19 and Lockdowns: Part 1: Introduction and Death Counts and Estimates." By Elon Musk
Musk further replied "Time to break up Amazon. Monopolies are wrong!"
Amazon later placed the book back up to its website and apologized.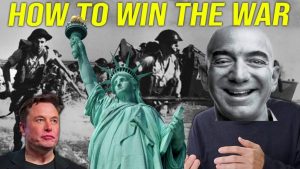 Elon Musk co-founded and leads Tesla Tesla, Inc. (TSLA) Nasdaq, SpaceX, Neuralink and The Boring Company.
Elon Musk is a South African-born American entrepreneur and businessman who founded X.com in 1999 (which later became PayPal), SpaceX in 2002 and Tesla Motors in 2003.
Major Holders
20.51%  % of Shares Held by All Insider
57.93%  % of Shares Held by Institutions
72.87%  % of Float Held by Institutions
1,319     Number of Institutions Holding Share
Top Institutional Holders
Holder  Shares  Date Reported  % Out    Value
Baillie Gifford and Company        12,076,416           Mar 30, 2020      6.51%    6,328,041,984
Capital World Investors 10,714,131           Mar 30, 2020      5.78%    5,614,204,644
Vanguard Group, Inc. (The)          8,662,781             Mar 30, 2020      4.67%    4,539,297,244
Blackrock Inc.     7,213,587             Mar 30, 2020      3.89%    3,779,919,588
FMR, LLC              4,615,556             Mar 30, 2020      2.49%    2,418,551,344
Jennison Associates LLC 4,320,630             Mar 30, 2020      2.33%    2,264,010,120
State Street Corporation               3,095,851             Mar 30, 2020      1.67%    1,622,225,924
JP Morgan Chase & Company     2,816,285             Mar 30, 2020      1.52%    1,475,733,340
Goldman Sachs Group, Inc.          2,702,701             Mar 30, 2020      1.46%    1,416,215,324
BAMCO Inc.        1,615,174             Mar 30, 2020      0.87%    846,351,176
Our Top Stock are Walmart which is so undervalued and should be trading above $300 and Groupon (NASDAQ:GRPN) with a potential upside $50 by end of the year with strong holiday sales and retail spending. Another company we like is Google Alphabet ( NASDAQ:GOOGL ) with an upside of $2000 and Apple ( NASDQ:AAPL ) with upside of $1000.
CWEB.com is not registered as an investment adviser with the U.S. Securities and Exchange Commission. Rather, CWEB.com relies upon the "publisher's exclusion" from the definition of investment adviser as provided under Section 202(a)(11) of the Investment Advisers Act of 1940 and corresponding state securities laws.