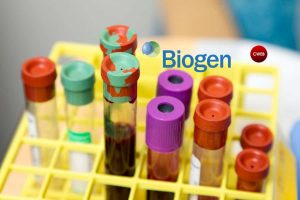 Biogen Inc (BIIB:NASDAQ) Biogen (Nasdaq: BIIB) and Eisai, Co., Ltd. (Tokyo, Japan) today announced that the U.S. Food and Drug Administration (FDA) has accepted the Biologics License Application (BLA) for aducanumab, an investigational treatment for Alzheimer's disease. The application has been granted Priority Review, with a Prescription Drug User Fee Act (PDUFA) action date on March 7, 2021, and the FDA has stated that, if possible, it plans to act early on this application under an expedited review. If approved, aducanumab would become the first therapy to reduce the clinical decline of Alzheimer's disease and would also be the first therapy to demonstrate that removing amyloid beta resulted in better clinical outcomes.
Source: News Biogen
Based on 28 analysts offering 12-month price targets for Biogen in the last 3 months. The average price target is $312.05 with a high forecast of $392.00 and a low forecast of $228.00. The average price target represents a 3.52% increase from the last price of $301.43.
Source: Tip Ranks
Biogen's stock reached a 52 Week High of 374.99 and has a Market Cap 47.7B
"The FDA's acceptance of the aducanumab BLA with Priority Review is an important step in the path to potentially having a treatment that meaningfully changes the course of Alzheimer's disease," said Michel Vounatsos, Chief Executive Officer at Biogen. "We look forward to working with the FDA throughout the review process and thank the thousands of clinicians, patients and caregivers who participated in our clinical trials and have accompanied us on this journey. We believe that aducanumab marks the beginning of a new era of potential treatments for Alzheimer's disease that will inspire even more discovery and innovation to bring hope to those affected by this devastating disease."
Michel Vounatsos is Chief Executive Officer of Biogen and has served in this position and as a member of the Board of Directors since January 2017.Mr. Vounatsos joined Biogen in 2016 as Executive Vice President, Chief Commercial Officer after a 20-year career at Merck. While at Merck, he held leadership positions of increasing responsibility in Europe, China, and the U.S., driving significant and consistent growth across multiple geographies. Most recently, he served as President, Primary Care Business Line and Merck Customer Centricity leading Merck's global primary care business unit, a role which encompassed Merck's cardiology-metabolic, general medicine, women's health and biosimilars groups, and developed and instituted a strategic framework for enhancing the company's relationships with key constituents, including providers, payers and retailers and governmental bodies throughout the world. Earlier in his career, Mr. Vounatsos held management positions at Ciba-Geigy.
Source Biogen Investor Relations
Photo by National Cancer Institute on Unsplash