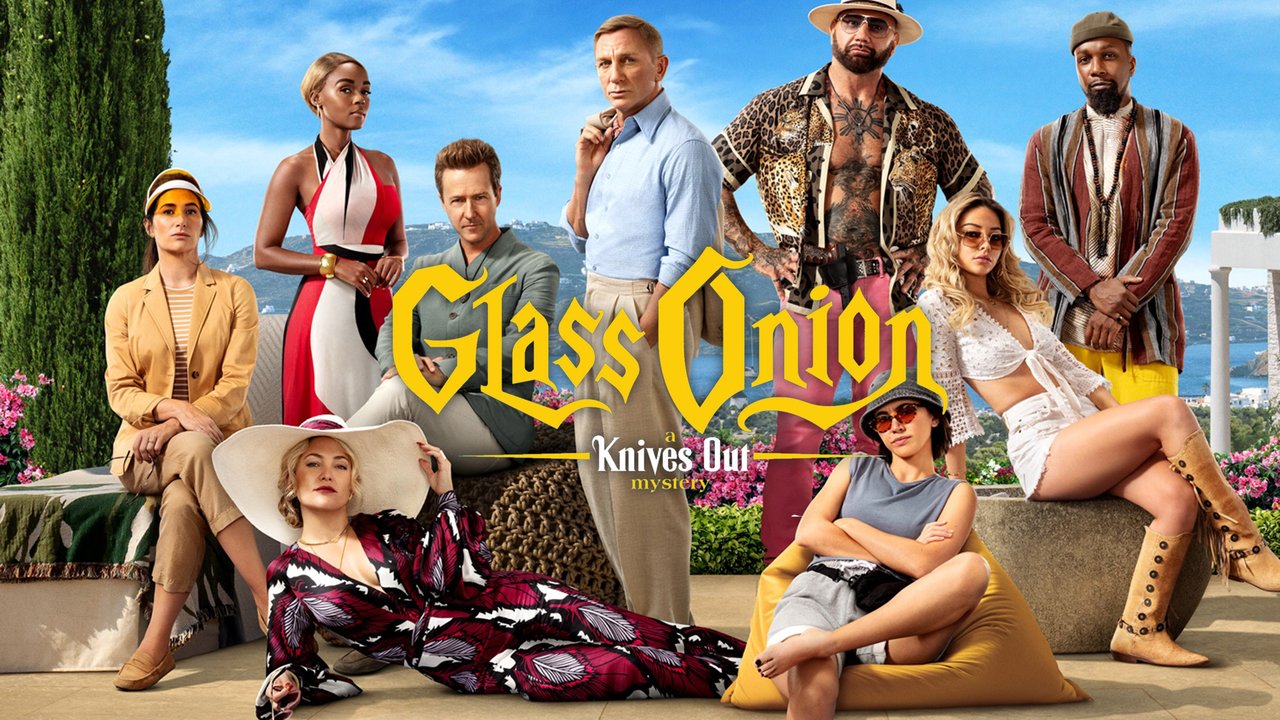 Glass Onion A Knives Out Mystery (3/10)
by Tony Medley
139 minutes
PG-13
This is what I wrote about the original Knives Out in 2019, "I hope that this is just the first of a series of new films starring (Daniel) Craig as Benoit Blanc."
Well, my hope was realized with the release of this. I can say after sitting through this groaner that I hope that this is the last of the series of films starring Craig as Benoit Blanc.
The first one was full of twists "with a bewitching lightness carried by Blanc and his soft southern accent," and it had an interesting mystery. This one lacks any twists whatsoever, Craig's "bewitching lightness" has vanished into inept stupor and for anyone who stays at least half awake, there's not much mystery.
The first one had an outstanding cast, including Chris Evans, Toni Collette, Jamie Lee Curtis, Christopher Plummer, and Don Johnson. This one is filled with what can only be called B-list actors, if that, and people like has-beens Edward Norton and Kate Hudson. The others are unlikely to be recognized. I'm sure that kept the budget down. It would be hard to know how they could have spent more than the $40 million it took to make the original. It certainly wasn't on the script, cast or crew. Thrown in are cameos by Ethan Hawke and Hugh Grant, neither of whom adds anything to the movie.
Paris Jewelry 14K Yellow Gold Round 1-Stone Interlocking Heart 18″ Necklace $493.44 by CWEB Reviews
It's still written and directed by Rian Johnson, but he has apparently lost whatever he had that produced the first one. Maybe he's a one-trick pony.  The story lacks tension and reason. It is slow, even boring. The dialogue is uninspiring. The denouement is ridiculous and unfulfilling. If Benoit was the "world's greatest detective" before this movie was released, now he isn't in the top 100. Hercule Poirot needn't worry
If they decide to make another, include me out.
It's a dangerous thing to make mistakes speaking without thought for speaking the truth. Watch this exclusive script-to-screen from #GlassOnion: A Knives Out Mystery. pic.twitter.com/t0XXaVSPwd

– Glass Onion: A Knives Out Mystery (@KnivesOut) January 7, 2023
Tony Medley is a columnist, and MPAA-accredited film critic His reviews are published in The Larchmont Chronicle, Telicom Magazine, The Tolucan Times, CWEB.com, robinhoodnews.com, on Rottentomatoes.com, the Movie Review Query Engine, and at www.tonymedley.com. Tony Medley holds the rank of Silver life Master, is an American Contract Bridge League Club Director, and has won regional and sectional titles. An attorney, he received his B.S. from UCLA, where he was sports editor of UCLA's Daily Bruin, and his J.D. from the University of Virginia School of Law.
Celebrity News Update— Premier Jewelry designer and manufacturer fashion house  ParisJewelry.com  has started manufacturing a new custom line of celebrity jewelry designs with 30% Off and Free Shipping. Replenish Your Body- Refilter Your Health with  OrganicGreek.com  Vitamin Bottles, Vitamins and Herbs. Become a  WebFans  Creator and Influencer.