Groupon The Come Back Kid Stock – CWEB.com
Groupon The Come Back Kid Stock – CWEB.com
2018 was the year for Groupon's stock (NASDAQ:GRPN)  rating has been upgraded by a number of major investment banks.
Analysts are expecting 232.04% YoY EPS growth for Q1, up from 0.00% in Q4 reporting on 5/2/2018
North Am. Active Customers is a key growth metric for their next report on 05/02/2018
Groupon (NASDAQ:GRPN) is the most popular daily deals website across America and worldwide. Offering amazing deals on everything from dining out, to consumer goods and travel deals. They have a loyal customer base of 32.7M in 2017 which grew by 200,000. The adjusted EBITDA for Q4'17 attained $105.3M vs $80.2M Y/Y, a new record for the company.
Groupon's (NASDAQ:GRPN) Q4'17 and full year results were actually good. Total revenue for Q4'17 came in at $873.2M, ahead of expectation by about $20M
Managment is also very bullish on the stock.
Insider Williams Rich (Chief Executive Officer) added 166,885 (7.1%) shares.
"We recognize and celebrate the local businesses that make the neighborhoods we call home great places to live in just about everything we do," said Jennifer Carr-Smith, senior vice president of North American Local, Groupon. "With spring just around the corner, now is the perfect time to explore your community and support these businesses and experience some true local hospitality."
Groupon (NASDAQ:GRPN) shares are up 26% over the past six months, and up 40.5% over the past 12.
Groupon (NASDAQ:GRPN) competitors are:
Sear's (SHLD) trades around $3 with a huge upside
J.P. Penny (JCP) trades around $3 with a huge upside
Walmart (WMT) trades around $90
Overstock (NASDAQ:OSTK) which trades $60
Dillards (NYSE:DDS) which trades $88
Nordstrom (NYSE:JWN) which trades $52
Macys (NYSE:M) which trades $30
Gap (NYSE:GPS) which trades around $34
LVMH Moet Hennessy (OTCPK:LVMUY) which trades around $60
Kohls (KSS) which trades around $63
BABA (NYSE:BABA) which trades around $180
Amazon ( NASDAQ:AMZN) which trades around $1500
CWEB Analyst's have Reiterates a Buy Rating for Groupon (NASDAQ:GRPN)
Read Full Article and Videos CWEB.com – Trending News, Blog, Shopping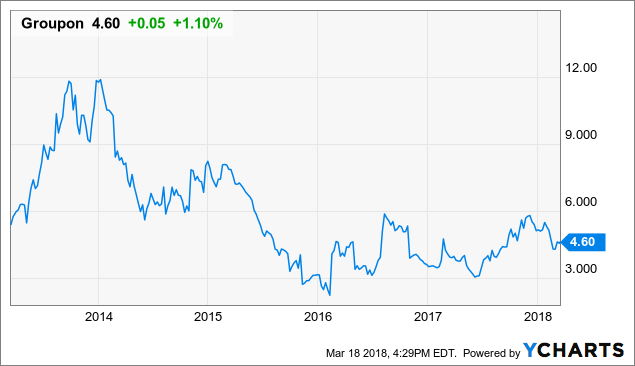 CWEB.com is not registered as an investment adviser with the U.S. Securities and Exchange Commission. Rather, CWEB.com relies upon the "publisher's exclusion" from the definition of investment adviser as provided under Section 202(a)(11) of the Investment Advisers Act of 1940 and corresponding state securities laws.
Stock Search
CWEB Business News