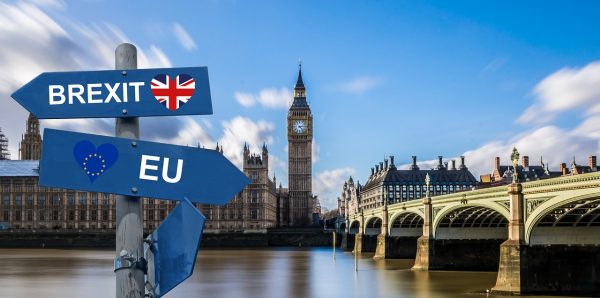 With the end fast approaching end of Britain's post-Brexit transition period Dec. 31, the race to reach a post-Brexit trade deal is becoming a hot topic for speculation. The entire world is wondering whether there will be a deal or a no-deal conclusion to the Brexit talks.
Reports say that the negotiations between the U.K. and EU are on a knife edge, and people in charge have admitted that the talks could end either way.
According to European Commission President Ursula von der Leyen, there are several issues that remain to be resolved.
The parliaments of both countries need to ratify a deal as the situation now seems to be a "cliff-edge" scenario for businesses operating of both sides of the English Channel.
There have been hopes that a deal can still be reached, as British Prime Minister Boris Johnson and European Commission President Ursula von der Leyen have agreed to continue their discussion past the Sunday deadline announced earlier.
"I am glad to report that the issues linked to governance now have largely been resolved. The next few days are going to be decisive," von der Leyen noted, but, she added, competition rules (to maintain what the EU calls a "level playing field") and fishing rights remain unresolved.
If there is a no-deal Brexit, and if the deadline remains to be Dec. 31, then the U.K. and EU will need to trade on World Trade Organization (WTO) terms.
This means new import duties on both country's goods, trade will be more expensive as well as more complex. Prices are likely to rise for consumers and this has pushed U.K. supermarkets to pile up their shelves with long-life goods in case there are shortages or delays at the ports.
"Without an agreement on their future trading relations — particularly some kind of free trade agreement — trade between the U.K. and the EU will be based purely on WTO terms," Catherine Barnard and Anand Menon, senior fellow and director, respectively, of 'The UK in a Changing Europe' think tank, revealed.
Trade between the U.K. and the EU will come with added import duties and certain other controls as well. Reports say that agriculture and industries that depend on products such as components to make cars or ingredients for processing food, would be affected the most.
A no-deal scenario is cause for concern to the fishing industry too as the EU fishing fleets' access to U.K. waters will disappear overnight, travel to the EU might have to stop and the services industry would ill-affected.
If trading on WTO terms comes into place, the U.K. services sector that could previously "access the whole of the EU's single market relatively freely, would only be allowed the much more restricted access of the EU and UK's commitments in the WTO," according to The UK in Europe's Barnard and Menon.
The financial services industry still seems an area of uncertainty. There is no decision revealed for on whether EU will grant market access for U.K. banks and other financial firms after Dec. 31.
The EU's contingency measures covering the aviation and road haulage industry in case of a no-deal Brexit seek to ensure "basic air connectivity … to ensure the provision of certain air services between the U.K. and the EU for 6 months, provided the UK ensures the same" and measures to guarantee aviation safety continues. Regulations covering basic connectivity with road freight, road passenger transport for 6 months are in place, provided there is reciprocation by the U.K.
Reports say that the U.K. that wants to "take back control" of its territorial waters, the EU proposed a contingency measure over fisheries "for continued reciprocal access by EU and U.K. vessels to each other's waters after 31 December 2020.
U.K. economist Paul Dales said, "A no deal at this stage would therefore be a less disruptive 'cooperative' no deal than a more disruptive 'uncooperative' no deal. As a result, the economic consequences would probably be smaller than most people fear," he said. Although he conceded that "the economy wouldn't get off scot free."