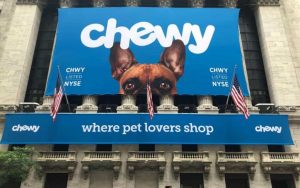 Chewy.com is a dog and cat lovers who want only the best-quality products for their pets. And they're always on the go. Being a pet parent is one of the best things in life. And they understand because they're pet parents too. In fact, Chewy.com was founded by people with a serious passion for helping pets. They wanted to make the process of finding food, treats and all that good stuff easy to find–and deliver it straight to your doorstep. Headquartered in Dania Beach, Florida, Chewy.com's dedicated staff–furry and non-furry alike–are committed to providing the kind of service that makes you go "wow." Their warehouses all over the country can ship the freshest, highest quality products–and fast. And their amazing gals and guys in customer service are here day and night to help. Bottom line is, they're here to make pet happiness happen.
Chewy, Inc. (CHWY) NYSE – Nasdaq has been busier than ever offering our pets fast delivery during the Covid-19 pandemic. Can they keep up the momentum? Who wants to lug 25 lbs. of cat and dog food to their home from the car? Not many I assume. The convenience has been a life saver for many. Chewy beat  revenue forecasts and the company believes it will continue strong growth. The company note  fiscal first-quarter revenue of $1.5 billion to $1.52 billion, far ahead of  estimates for $1.45 billion.
"PetSmart acquired Chewy in 2017, adding $2 billion to PetSmart's debt load to do the deal." Stated by Reuters.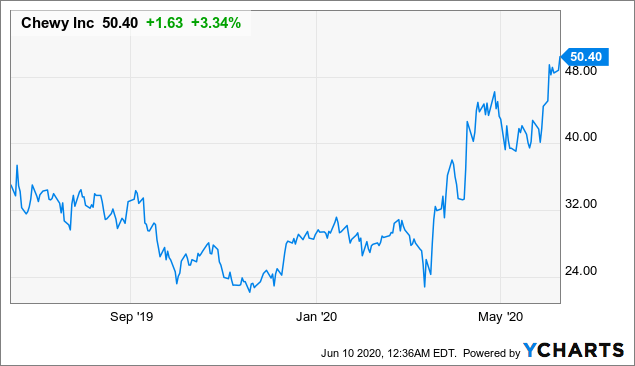 [object HTMLElement]
Chief Executive Officer (CEO) and Director Sumit Singh is the CEO of Chewy, Inc. (NYSE:CHWY) and also serves on the company's Board of Directors. Under Sumit's leadership, Chewy became a public company in June 2019, trading on the New York Stock Exchange as CHWY and raising $1 billion from the stock sale. Source: https://www.linkedin.com/in/sumit-singh-807ab14
Top4  Mutual Fund Holders
Holder  Shares  Date Reported  % Out    Value
Morgan Stanley Inst Fd Inc-Growth Port 3,734,428             Dec 30, 2019       4.43%    108,298,412
Vanguard U.S. Growth Fund        1,966,218             Feb 28, 2020       2.33%    58,200,052
Vanguard Explorer Fund, Inc.      1,713,076             Jan 30, 2020        2.03%    45,413,644
Vanguard Total Stock Market Index Fund              1,223,246             Dec 30, 2019       1.45%    35,474,134

Top 4 Institutional Holders
Holder  Shares  Date Reported  % Out    Value
Morgan Stanley 13,004,412           Mar 30, 2020      15.44%  487,535,405
Baillie Gifford and Company        5,179,851             Mar 30, 2020      6.15%    194,192,613
Vanguard Group, Inc. (The)          3,997,924             Mar 30, 2020      4.75%    149,882,170
Tybourne Capital Management (HK) Limited        3,516,124             Mar 30, 2020      4.18%    131,819,488
Our Top Stock are Walmart which is grossly undervalued and should be trading above $300 and Groupon (NASDAQ:GRPN) with a potential upside $50 by end of the year with strong holiday sales and retail spending. Another company we like is Google Alphabet ( NASDAQ:GOOGL ) with an upside of $2000 and Apple ( NASDQ:AAPL )    with upside of $1000
and Sears (NASDAQ : SHLDQ ) after reconstruction and closing most stores to become profitable and positive online presence we believe the stock can reach high $3
CWEB.com is not registered as an investment adviser with the U.S. Securities and Exchange Commission. Rather, CWEB.com relies upon the "publisher's exclusion" from the definition of investment adviser as provided under Section 202(a)(11) of the Investment Advisers Act of 1940 and corresponding state securities laws.