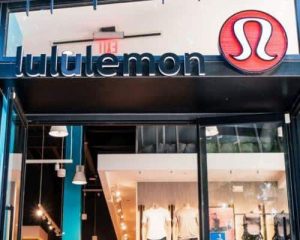 Lululemon Athletica Inc. (LULU) Nasdaq sees drop in sales amid  the Coronavirus pandemic even with  online sales surging 70%. Lululemon Athletica Inc (NASDAQ: LULU) posted a 17% revenue decline in the first quarter.
The Canadian company listed on the U.S. exchanges in July 2007, opening at $12.50 and entering an immediate uptrend that topped out at $30.35 in October.
295 stores  have reopened, and it does confirm all remaining stores will be open soon. The company has also continued to pay rent on all its properties and have not furloughed any employees. Customer service has been a challenge with many customer complaints getting in touch with the company about returns
Morgan Stanley maintained an Equal-weight rating and $296 target, KeyBanc Capital Markets maintained a Sector Weight rating,  and Bank of America Securities maintains a Buy rating and $340 price target.
Calvin McDonald is the Chief Executive Officer of Lululemon Athletica Inc., an athletic apparel company, and serves as a member of the company's Board of Directors. Mr. McDonald is a growth-oriented leader who has a proven track record helping large organizations scale by integrating how brands engage with customers where they shop – in stores, across digital channels, and from their home. Prior to joining Lululemon in August 2018, Mr. McDonald served for five years as president and CEO of Sephora America's, a division of the LVMH group of luxury brands. Source:https://investor.lululemon.com/index.php/board-directors/calvin-mcdonald
Top Institutional Holders
Holder  Shares  Date Reported  % Out    Value
FMR, LLC              18,617,271           Mar 30, 2020      14.98%  3,528,903,718
Vanguard Group, Inc. (The)          10,893,971           Mar 30, 2020      8.76%    2,064,952,203
Price (T.Rowe) Associates Inc      8,187,736             Mar 30, 2020      6.59%    1,551,985,358
Jennison Associates LLC 7,719,010             Mar 30, 2020      6.21%    1,463,138,345
Blackrock Inc.     7,036,616             Mar 30, 2020      5.66%    1,333,790,562
Following the amazingly bad results, shares of lululemon slid 5.1% in the after-hours session in Jun 11. In the past three months, this Zacks Rank #3 (Hold) stock has gained 74.3% compared with the industry's 28.6% growth.   Source : https://finance.yahoo.com/news/lululemon-lulu-stock-down-q1-132101191.html
CWEB.com is not registered as an investment adviser with the U.S. Securities and Exchange Commission. Rather, CWEB.com relies upon the "publisher's exclusion" from the definition of investment adviser as provided under Section 202(a)(11) of the Investment Advisers Act of 1940 and corresponding state securities laws.