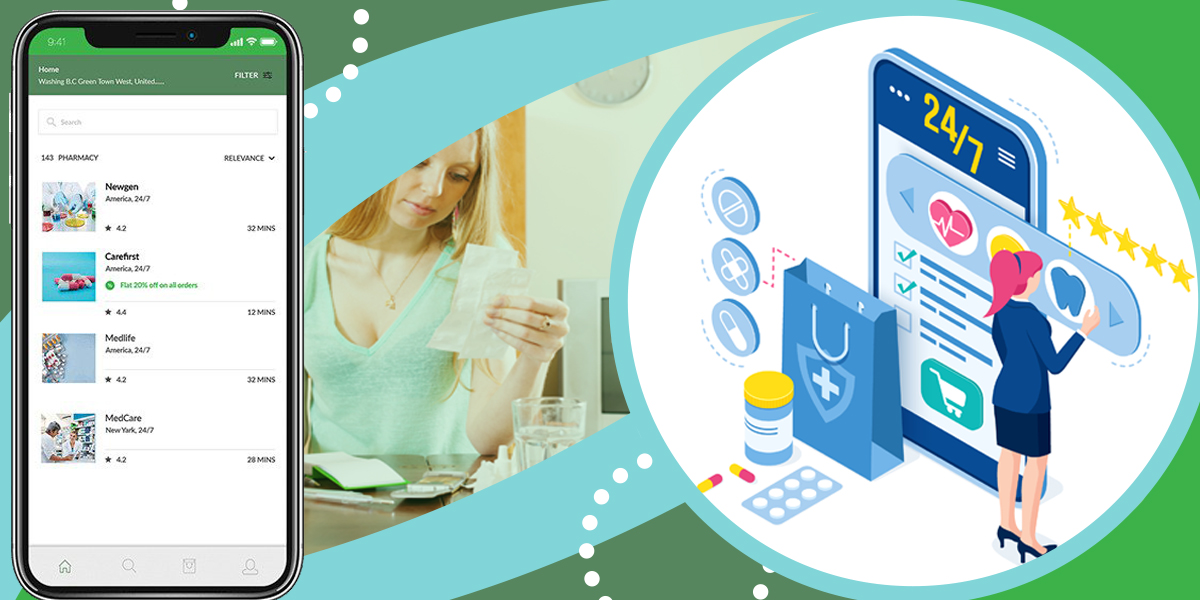 E-pharmacy platforms are the biggest boon amidst the severe Covid-19 pandemic. Though people can visit medical shops anytime, they are hesitant to visit them due to the prevalence of the Covid-19 virus. Hence, online pharmacy apps like 1mg,  Netmeds, PharmEasy, and Practo are gaining popularity. Hence, entrepreneurs can get maximum business traction by creating an Uber for medicine delivery app. They can approach AppDupe to fulfil their goals perfectly. 
Why is it apt to initiate on-demand medicine delivery app development?
The global online pharmacy industry will cross a huge value of $49.1 billion by the end of this year. Further, it will be worth $107.5 billion by 2026. 
Owners of a brick-and-mortar medical shop can never grow quickly due to the high operating costs and other restrictions. However, retailers can strike gold by registering on an Uber for medical delivery app. The e-pharmacy sector will grow by a high annual rate of 16.81% for the next 5 years. 
The future of the thriving online pharmacy industry will depend on factors like better Internet connectivity, government regulations, the prevalence of chronic diseases, and a rise in the disposable income of the customers.   
What are the top 6 features of our Uber for medicine delivery app?
An advanced search and filter mechanism – Users can discover their desired medicines effortlessly. They can choose various categories like Ayurveda, baby care products, fitness and wellness equipment, hair care items, pain relief sprays, skincare goods, and weight management tablets. 
Discounts and Offers section – Buying medicines online is quite cheap when compared to making a long trip to a brick-and-mortar pharmacy. Importantly, customers get exciting cashback, coupons, discounts, and promo codes. Users will know the difference between the Maximum Retail Price (MRP) and the rate offered by our medicine delivery app. 
Multiple payment modes – Paying through cash is considered a risk by many as they may contract the deadly coronavirus. Hence, users can process transactions through several options on our Uber for medicine delivery app. They can transfer money for their medicines through Apple Pay, credit cards, debit cards, e-wallets, Google Pay, net banking, PayPal, and wire transfers. 
Real-time tracking of medicines – Customers can track their orders (capsules and tablets) with ease on our Medicine delivery app. They must enter the unique order number to know the status of their pharmacies. Users will receive instant information about the location and name of the delivery personnel. 
A Rating and Review system – Our medicine delivery app allows users to share their feedback regarding the professionalism of the order fulfilment executives. Besides that, customers can rate the quality of the pharmacies on a scale of 1-5.  
24×7 technical support – Generally, patients can never return poor-quality medicines purchased from a physical pharmacy. However, an Uber for medicine delivery app accepts the return of pharmacies and also issues refunds. Users can contact the Help Centre via email, live chat, and phone. They will receive prompt technical assistance immediately. 
What is the cost of on-demand medicine delivery app development?
Entrepreneurs will have to spend a huge expenditure if they start a medical shop. They have to pay electricity, rent, salaries to the workforce, and other taxes. However, they will benefit from low operating costs by launching an ultra-modern Uber for medicine delivery app. 
The budget of creating a magnificent medicine delivery app depends on the choice of basic and advanced features, hourly charges paid to the mobile app developers, the kind of tech stack, the level of customization, multi-platform compatibility, and the time spent. 
Hence, make magic in the e-pharmacy sector by coming out with a top-notch Uber for medicine delivery app now. Get in touch with a skilled app development company and get more pharmacy orders from customers soon.