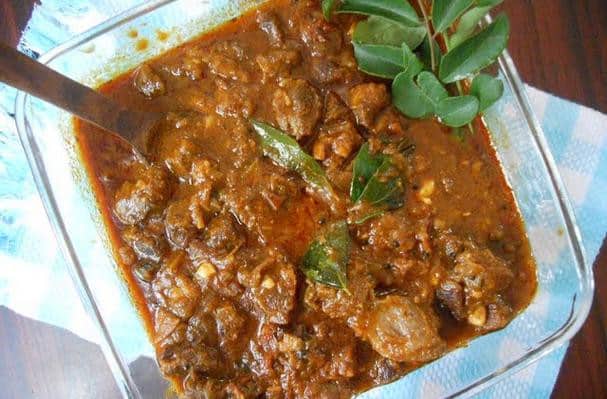 Ingredients
2 tablespoons Meat masala:
Preparation
2. Meanwhile deskin and clean 200 gms of shallots.
5. Dunk in the 
sliced 
shallots, garlic, ginger, green chilies, and salt.(Remember 
salt 
was added for 
marinating 
so add little here).
7. Meantime 
chop 
1 tomato and keep aside.
8. Now the shallots must have started to brown….add 2 tsp red chilly powder (I am using Kashmiri chilly which is not pungent; if using ordinary red chilly pls reduce by 1 tsp), 1 tsp coriander powder, 1/2 tsp turmeric powder, 1 tbsp meat masala, 1/2 tsp garam masala, and 1/2 tsp pepper powder.
9. Allow it to 
fry 
for a min or until the raw smell goes.
11. Let it 
fry 
for 2 or 3 min or until oil comes out.
13. Add little water. Close pressure cooker and cook for 20 min on low 
flame 
after the 1 st whistle.