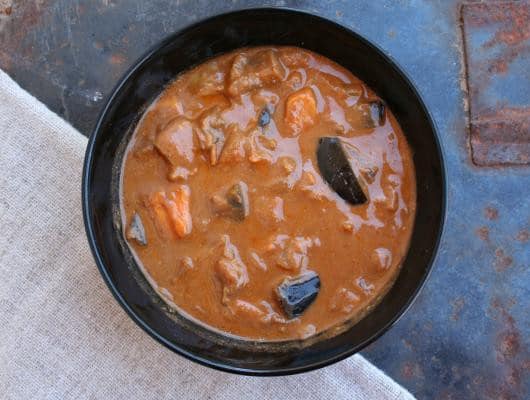 This is one of my new favorite foods! It is so delicious that I could eat this on a regular basis. It has some of my favorite ingredients: sweet potato, eggplant, garlic, ginger, peanut butter, sriracha, and onion. Put them all together, and whala; a great dish is born. It is satisfying, comforting, and a great all around meal.
Ingredients
◾1 onion (2 cups), chopped
◾2 tablespoons olive oil
◾2 tablespoons ginger, minced
◾4 cloves garlic, minced
◾2 teaspoons cumin
◾2 teaspoons coriander
◾5 cups low sodium vegetable broth
◾6 oz. tomato paste
◾1 cup peanut butter
◾2 medium sweet potatoes (4 cups jewel yam), chopped
◾1/2 teaspoon salt, or to taste
◾pepper, to taste
◾1 serrano (2 tablespoons)
◾2 teaspoons sriracha
◾1 medium eggplant (6 cups), chopped
◾1 small yellow squash or zucchini (1 1/2 cup), chopped
Preparation
1. Sauté chopped onion in olive oil until translucent, about 5 minutes.
2.Add minced garlic, ginger, cumin, and coriander and cook for about 1 minute longer, until fragrant.
3.Add vegetable broth, tomato paste, salt, pepper, sriracha, serrano, peanut butter and sweet potatoes. Bring to a boil, and then simmer until sweet potato starts to soften, about 15-20 minutes.
4.Add chopped eggplant and squash. Cook until tender, about 10 minutes.