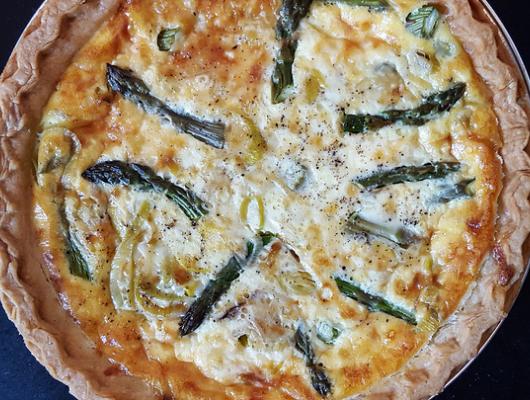 Quiche is such an easy dish to make and is so perfect for brunch or even and easy dinner alongside a green salad. Since store-bought pie crusts come in twos it's easy to whip up two quiches. Just double the custard ingredients.
Ingredients
For the custard:
3 large eggs
1 cup heavy cream
A pinch or two of salt and a few good cracks of freshly ground black pepper
One 9-inch store-bought frozen pie crusts (keep frozen until ready to assemble and bake!)
For the filling:
1 tablespoon butter
1 leek (white and light green parts only), halved and thinly sliced, then well washed
6-7 stalks of asparagus, tough ends removed, thinly sliced on the diagonal
A pinch of ground nutmeg
1 cup shredded Gruyere or half a package of grated Swiss cheese
Preparation
1. Preheat oven to 350° F.
2. Directions for the custard:
3. In a large bowl, whisk together eggs, cream, salt, and pepper.
5. In a medium skillet over medium-high heat, melt butter then add the leeks. Sauté until lightly golden (do not allow to burn), then remove from heat.
6. Sprinkle the bottom of a pie crust with a bit of shredded cheese, enough to cover the bottom in a thin layer.
7. Add the leeks and asparagus, reserving a few of the tips to garnish the top.
9. Pour in the quiche custard until it comes to the bottom edge of the crust.
10. Bake quiche on the bottom rack of a preheated 350° F for 50 minutes or until a knife inserted in the center comes out clean.
11. Let quiche stand 15 minutes before serving.