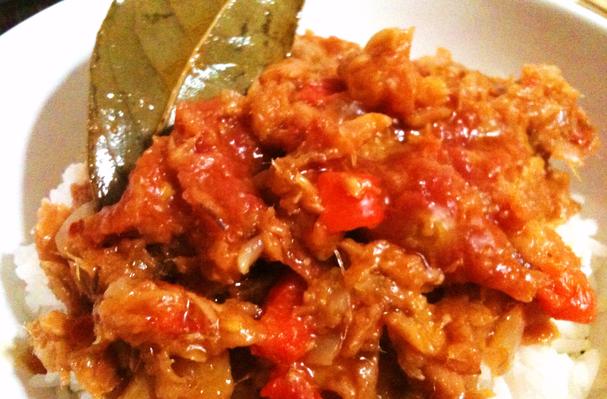 Here's the precious Bacahlau, the very expensive dried cod fish in the Philippines and apparently cheap in Spain. But these days, you can actually substitute and use another type of dried fish as long as it can taste and look like Bacahlau once its cooked.
Ingredients
2 pounds dried salted cod
1 large yellow onion chopped
6 cloves garlic (and more is the best) grated
3/4 cup cup olive oil+ ¼ olive oil
28 ounces crushed tomato in can
2 pieces bay leaf
12 ounces can or jar of roasted red pepper
1 teaspoon dried chili flakes
1/2 cup flour
Preparation
1. Soak dried cod fish in water for 24 hours.
2. Change the water every 6 hours.
3. After 24 hours,remove the fish from water.
4. Pat dry and cut in 3 inch square.
5. Dredge cod fish in flour.Set aside
6. Heat a sauce pan, put 1/4 cup olive oil.
7. Add the chopped garlic and while frying the garlic,fry cod fish by batch until brown
8. Set aside and let it cool.
9. Then proceed to debone and shred the cod fish into pieces. Set aside.
10. Using the same sauce pan, heat 3/4 cup olive oil
11. Add chopped onion and wait until it caramelized.
12. Add in crushed tomato and bay leaf
13. Once it boils, turn the heat to simmering mode and let it simmer for 10 minutes.
14. Add the shred cod fish, cover and simmer for about 20 minutes
15. Add sliced, roasted pepper and 1 tsp chili flakes.
16. Simmer for 5 minutes. Serve and enjoy!