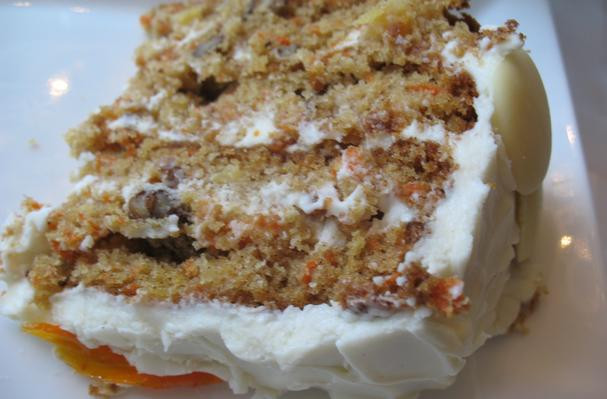 This carrot cake recipe from the Canadian Living Test Kitchen is one of their many recipes which I often turn to knowing that it will never fail to impress. They aren't kidding when they refer to it as " Canada's Best Carrot Cake". If you're a carrot cake fan, you're going to love this multi-layered cake filled with cream cheese icing. The cake with crunchy pieces of pecans, and little orange flecks poking through the carrot – pineapple batter is as near to perfection as you can get.
The only changes I made in the past to the original cake recipe is that from time to time, I might add shredded coconut for that extra tropical flavour to compliment the pineapple. In order to have enough filling for the four layers, I stretched the already decadent cream cheese icing by adding extra icing sugar and some 35% cream . My version of the cream cheese icing is provided below the original recipe from the CL Test Kitchens. The cake is finished off with Belgium white chocolate disks and homemade candied carrot slices for garnish.
One little word of advice should you decide to undertake the recipe; make sure the crushed pineapple is well drained. I even go so far as to wring it out in a paper or cloth towel.
Ingredients
Cake Batter:
1/2 teaspoon nutmeg
3/4 teaspoon salt
3/4 cup granulated sugar
3/4 cup packed brown sugar
3 eggs
3/4 cup vegetable oil
1 teaspoon vanilla
2 cups grated carrots
1 cup well drained crushed pineapple
1/2 cup coarsely chopped pecans (toasted for better flavour)
Icing:
1 package cream cheese (8 ounces/ 250 g)
1/4 cup butter softened
1/2 teaspoon vanilla
1 cup icing sugar
Preparation
2. Sift and blend the flour, baking powder, baking soda, cinnamon,nutmeg and salt into a large mixing bowl.
3. In a separate bowl, beat together the sugars, eggs, oil and vanilla. Stir in the carrots pineapple and pecans.
4. Transfer to two prepared 8″ square cake pans.
5. Bake in a pre-heated 350º F oven for 35-40 minutes or until a wooden skewer inserted in the middle comes out clean.
7. Add the cream cheese and butter to a bowl and beat until smooth. Pour in the vanilla and gradually beat in the icing sugar, until a smooth consistency.