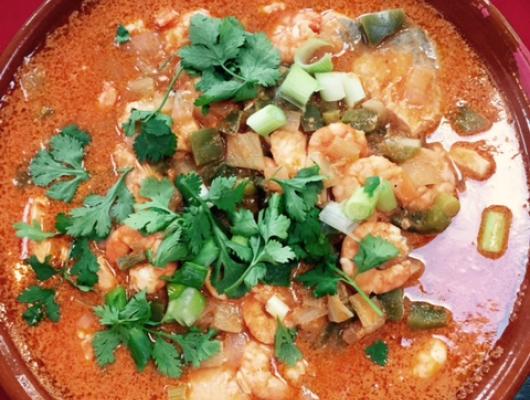 A stunning fish stew, perfect for the winter! Packed full of flavours!
Ingredients
2 large salmon fillets
Juice 1 lime
2 tbsp olive oil
400g large raw prawns
1 large onion, diced
1 green chilli, deseeded and chopped
1 bulb fennel, finely diced
4 cloves garlic, crushed
1 green pepper, diced
1 x 500ml carton tomato passata
200ml coconut milk
400ml vegetable stock
6 spring onions, sliced
Lime wedges to serve
Fresh coriander to garnish
For the rice
1 onion, finely diced
300g brown basmati rice
200ml coconut milk
400ml vegetable stock
1 x 400g tin black beans drained
Preparation
1. Place the salmon into a ceramic container then marinate the fish in the lime juice and olive oil for 20 minutes.
2. Meanwhile, fry the onion, chilli and fennel in some oil for 5 minutes until softened then add the peppers and garlic and cook for a further 3 minutes.
3. Pour in the passata, coconut milk and stock, bring up to a simmer then cook for 15 minutes.
4. Place the salmon and prawns into the pan, and gently cook for 5 minutes or until cooked through.
5. To make the rice, fry the onion in some oil for 5 mins until softened. Add the basmati, coconut milk, stock and some salt, bring to the boil, reduce the heat right down, cover with a lid then cook until all the liquid is evaporated – this will take 25-30 minutes.
6. Season with salt and pepper and serve up into bowls along with the rice and garnish with the spring onion and coriander. Enjoy with a wedge of lime and a little hot sauce of choice if you want to give it a kick! We had it with warm ciabatta to mop up the mouth watering juices.