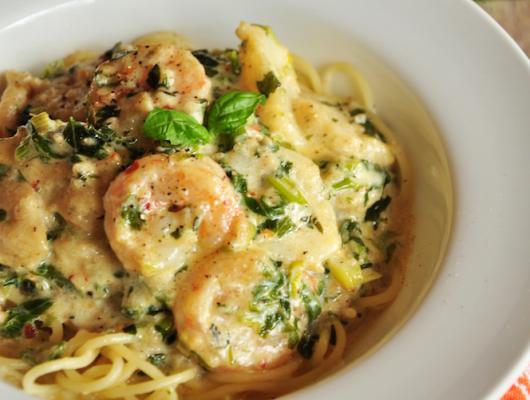 Try this seafood pasta recipe with a Cajun twist. It turns a classic creamy pasta dish into something new with a zesty blend of spices.
Ingredients
1 pound dry linguine pasta
2 cups heavy whipping cream
1 tablespoon fresh basil, chopped
1 tablespoon fresh thyme, minced
1 tablespoon fresh parsley
1 cup chopped green onion
1 teaspoon salt
Freshly ground black pepper to taste
1/2 teaspoon crushed red pepper flakes
1/2 pound shrimp, peeled and deveined
1/2 pound sea scallops, sliced horizontally
3/4 cup shredded swiss cheese
1/4 cup grated parmesan cheese
Preparation
1. Bring a large pot of salted water to a boil and cook the pasta for 9 minutes according to the package instruction.
2. Meanwhile, pour the cream into a large skillet. Cook over medium heat until it just starts to boil, stirring constantly.
3. Reduce heat to medium low, add basil, thyme, parsley, and green onion. Season with salt, black pepper, and red pepper flakes. Gently stir and simmer for 8 minutes or until the sauce is slightly thickened.
4. Increase heat to medium, add shrimp and scallops, cook until the seafood turns from translucent to opaque, stirring occasionally, about 5 minutes.
5. Stir in swiss cheese and parmesan cheese until it's melted and blended well.
6. Drain the pasta, divide into 6 even portions and place into serving bowls.
7. Pour equal amount of the seafood sauce on the pasta in each serving bowl. Serve!