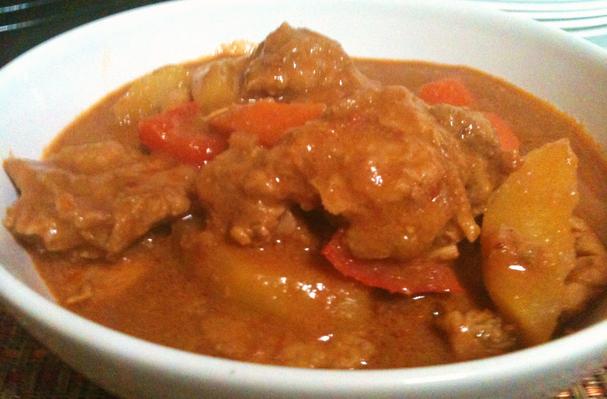 The good old Kaldereta,dont worry about the chicken liver.You wont know its there but instead a new taste is developed.The liver contributes a lot with the consistency of the sauce and richness of the flavor.You can omit it or you can be bold and daring… go ahead,try it and enjoy the chaos in your palate.Have a great week to all! Lets eat,lets giggle and lets be merry!
Ingredients
500 grams chicken breast sliced or cubes
500 grams pork butt shoulder sliced or cubes
4 tablespoons light soy sauce
2 tablespoons rice wine
2 tablespoons corn flour
2 tablespoons olive oil (for frying potato)
4 small potatoes sliced
1/4 cup olive oil (for frying meat)
2 tablespoons olive oil (for onion and garlic saute)
1 large onion chopped
6 cloves garlic grated
3 tablespoons tomato paste
1 can whole tomatoes chopped
1 small can of beer
1/4 cup olive oil (for stew)
1 teaspoon paprika
1 teaspoon ground pepper
2 pieces bay leaf
1/4 teaspoon oregano
1/2 teaspoon cinnamon
4 pieces baby carrots sliced
1/2 cup olives (optional)
350 grams pureed chicken liver
1 1/2 teaspoons salt
1 teaspoon sugar
2 teaspoons chili flakes
1/2 cup chickpeas
1/2 cup cubed red bell pepper
cup grated parmesan cheese
1/2 cup water optional
Preparation
1. Begin by putting the meat both chicken and pork in a bowl
2. Add light soy sauce,rice wine and corn flour.
3. Mix properly and marinate for 3 hours.Set aside in the fridge.
4. Heat a sauce pan,add 2 tbsp olive oil and fry the sliced potatoes for 30 seconds.Set aside.
5. Using the same sauce pan,add 1/4 cup olive oil and fry the meat by batches slightly brown.Set aside.
6. Using the same sauce pan,add 2 tbsp olive oil and saute onion,garlic
7. Wait till the aroma comes out and add tomato paste.
8. Stir until well blended for about 2 minutes.
9. Now add the browned meat,chopped tomatoes in can with juice,1 can of beer and the ff spices:paprika,ground pepper,bay leaf,cinnamon,oregano.
10. Cover and cook by simmering for 40 minutes.
11. After 40 minutes,add carrots,pureed chicken liver,green olives,potatoes,sugar,salt,chili flakes.Cover and simmer for 10 minutes.
12. Lastly,add chickpeas, cubed red bell pepper and grated cheese.
13. Cover and simmer for another 10 minutes or until the desired consistency.