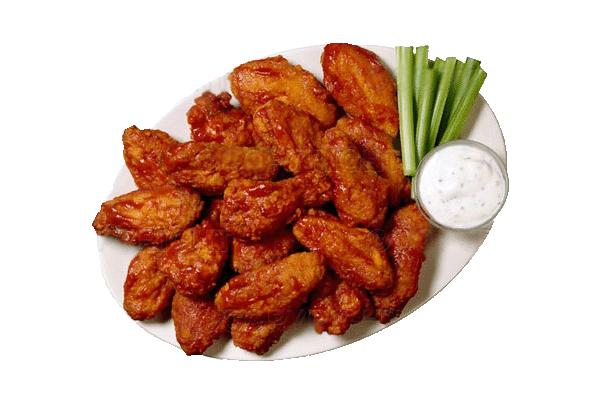 Garnishes: Celery sticks and blue cheese dressing for dipping.
This recipe produces a medium spicy wing, with the right amount of crunch, flavor and heat.
Ingredients
1 cup all-purpose flour
1 teaspoon salt
1/2 teaspoon paprika
1/2 teaspoon garlic powder
1/2 teaspoon cayenne pepper
1/4 teaspoon black pepper
20 chicken wing segments
Sauce:
1/2 cup butter, melted
1/2 cup hot sauce
Preparation
1. In a shallow dish, combine flour, salt, paprika, garlic powder, and peppers.
2. Coat chicken entirely in the flour mixture; refrigerate coated wings for 1 hour; coat chicken again with remaining flour mixture.
3. In a 2-quart saucepan, heat butter and hot sauce just until butter melts; turn heat to low and keep warm on stove top.
4. Deep-fry chicken, 8 – 10 pieces at a time, in 375 degree oil (vegetable oil, canola oil, or peanut oil) for 13 minutes, turning once or twice.
5. Repeat with remaining chicken.
6. Drain chicken on a wire cooling rack for 30 seconds, then immediately toss fried chicken in buffalo sauce mixture and remove with a slotted spoon and serve hot.