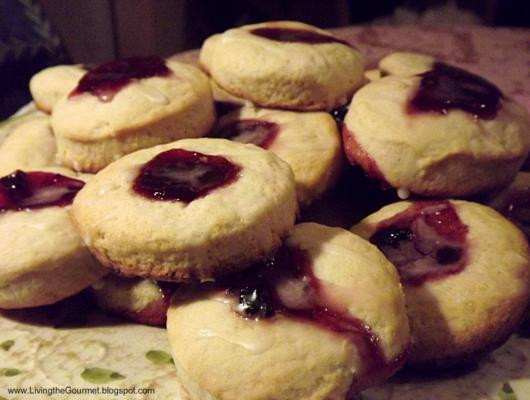 Ingredients
For scones you will need:
2 cups AP flour
½ cup sugar
2 teaspoons baking powder
¼ teaspoon fine sea salt
6 tablespoons unsalted butter, chopped
¾ cups whipping cream
¼ cup milk
1/3 cup cherry preserves
For glaze you will need:
Juice of ½ lemon
1 cup powdered sugar
1 tablespoon water
Preparation
1. Preheat oven to 350 degrees F. Line two baking sheets with parchment paper.
2. In food processor combine flour, sugar, baking powder, salt and butter. Transfer to a medium bowl, and gradually stir in cream and milk until a soft dough forms. Roll out dough on a well floured surface, about ½-inch thick. Using a round cookie cutter, cut out the dough and place on prepared baking sheets. Next, using your index finger or a small, round spoon, gently make an indentation in the center of each pastry. Fill with about ½ teaspoon of cherry preserves, and bake for about 18-20 minutes, or until the edges are golden. Transfer onto a cooling rack.
3. For the glaze, combine lemon juice, powdered sugar and water in a small bowl. Using a teaspoon, drizzle glaze over each scone and let the glazed set, about 30 minutes.