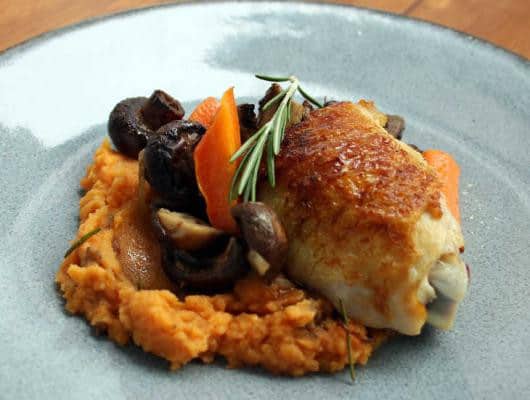 DESCRIPTION: Casseroles are so delicious, but preparing them with a ton of processed oils and carb-laden noodles wreaks havoc on your body. This alternative is just as tasty and much better for you.
Ingredients
2 Tablespoons of olive oil (30 ml), to cook with
8 chicken thighs (with skin on) (1.2 kg)
1 medium onion (110 g), peeled and thinly sliced
3 cloves of garlic (9 g), peeled and chopped
30 white button mushrooms (300 g), halved
2 carrots (100 g), peeled and cut into chunks
Several sprigs rosemary
Salt to taste
Preparation
1. Preheat the oven to 400°F (200°C).
2. Heat the olive oil in a large non-stick and brown the chicken thighs skin-side down until golden and crispy, then turn and grill the underside for a minute or two. Remove from the pan and place the chicken pieces in a roasting dish. (Be mindful that the chicken is still uncooked in the center.)
3. It is unlikely that you will need additional olive oil, as there will be some rendered fat from the chicken in the pan. Add the sliced onions, garlic and rosemary and cook over a low-moderate heat to soften the onions completely. Increase the heat and cook until they become jammy. Stir in the mushrooms and carrots, only to coat them in the mixture, then remove the pan from the heat.
4. Spoon the vegetables into the roasting tray around the chicken pieces and place the dish in the oven for 30 minutes.
5. Season with salt and additional rosemary sprigs, then serve to the table for everyone to help themselves.