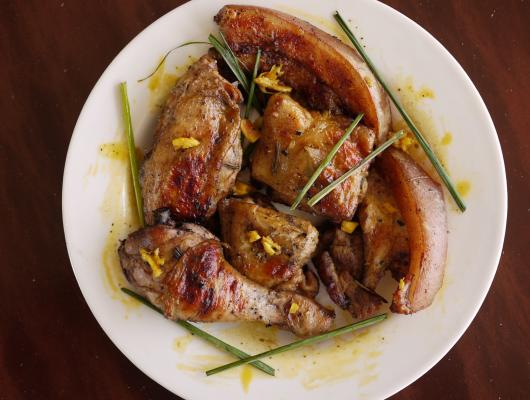 Classic Filipino – an homage to Bacolod's authentic inasal – succulent, savory, sour, garlicy
Ingredients
6 – 8 pieces chicken leg and thigh + 1 kg pork belly
Marinade:
3 bulbs garlic (minced; you can use a food processor)
a 3 inch knob of ginger (minced; you can use a food processor)
juice of 4 lemons
3 / 4 cup vinegar (I used apple cider vinegar)
2 tablespoons rock salt
1 tablespoon freshly cracked pepper
1 lemongrass/tanglad stalk, roughly chopped
1 tablespoon sugar
for the Achuete – Margarine mix
1/4 cup vegetable oil
3-4 tablespoons annatto/achuete seeds
1 small tub Star Margarine (get the smallest tub out there)
two spoonfuls of the garlic and ginger used in the marinade
1/2 tablespoon freshly cracked pepper
Preparation
1. for the achuete-margarine mix:
2. In a small saucepan, heat the oil. Add the achuete seeds and allow oil to color. Once the desired rich orange color is achieved, remove from heat.
3. Strain the oil into a cup to remove the seeds.
4. Using the same pan, melt the margarine until hot and frothy.
5. Add the garlic and ginger and allow to toast. Add the pepper.
6. When done, remove from heat and use it for basting the meat.
7. Marinade and Grilling:
8. Mix all the marinade ingredients together and adjust taste to your preference.
9. Add the meat and marinade for at least two hours or overnight.
10. Grill the meat, alternately basting with the achuete-margarine mix and the marinade. Be careful not to let the meat burn.
11. Serve with a steaming cup of rice. Dipping sauce (soy sauce, vinegar, chili) is optional. Enjoy!