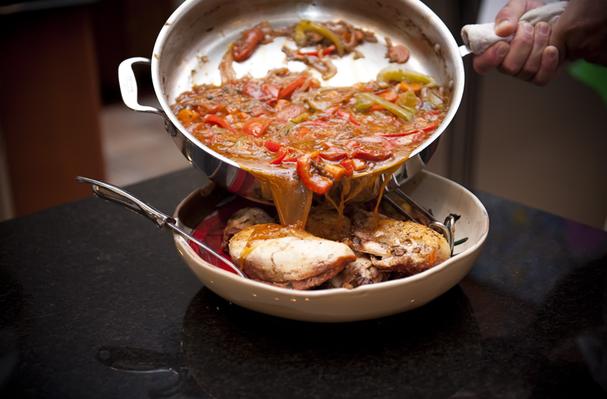 This is another dish that probably has as many variations as it does cooks who prepare it. I'm not a big fan of heavy red sauces so I made a pretty light version of the classic chicken and vegetable stew. It went VERY well over a mound of garlic mashed potatoes.
Ingredients
Chicken Parts. I used breasts and thighs.
Yellow or White Onion
5 cloves Garlic
4 Carrots
2 Red and Green Peppers
3 Tomatoes
1 tablespoon Tomato Paste
Oregano, fresh or dry, to taste
Rosemary, fresh or dry, to taste
Crushed Red Pepper, to taste
1 cup Red Wine
2 cups Chicken Broth
Olive Oil
Salt and Pepper
Preparation
1. Season the chicken with salt and pepper.
2. Heat a bit of olive oil over medium to medium-high heat and brown the chicken.
3. Peel and slice the carrots.Chop the onion into rings and mince the garlic.Slice the peppers into thin strips.Quarter the tomatoes. Snip the herbs. Use a tablespoon or two of each if using fresh, about half that if using dry.
4. Remove the chicken from the pan and add the onion, garlic and carrot. Cook, stirring occasionally, until the onions start to brown.
5. Stir in the tomato paste and cook another minute or two.
6. Add the wine and deglaze the pan.
7. Stir in the peppers, herbs and crushed red pepper.
8. Return the chicken to the pan and add the broth. Simmer over low heat until the chicken is done and the broth thickens a bit, about 30 minutes.
9. Remove the chicken. If the sauce needs to thicken a bit more, turn up the heat and cook for a few more minutes, stirring frequently Pour it over the chicken.
10. We had it with garlic mashed potatoes. Enjoy!