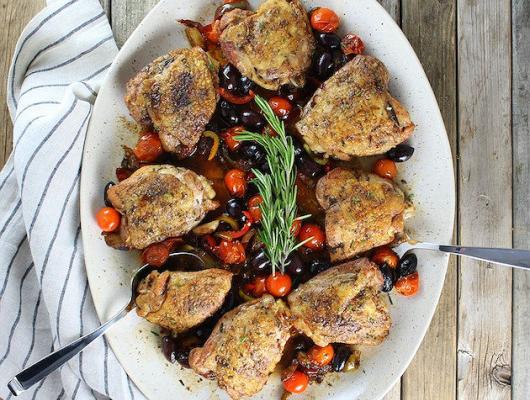 Amazing Abruzzo-style chicken fricassee w/garlic, chopped rosemary, Kalamata olives, hot cherry peppers, cherry tomatoes, & white wine. Hearty, healthy, one-pot comfort food.
Ingredients
8 chicken thighs, skin on and bone in, excessive fat trimmed
2 tablespoons olive oil
8 large peeled garlic cloves, halved
2 tablespoons rosemary, finely chopped
salt and pepper
1 cup white wine
½ cup chicken stock
10 ounces cherry tomatoes
24 kalamata olives
3-4 hot cherry peppers, seeds and stems removed, chopped
Preparation
1. Sprinkle chicken with salt and pepper. Add olive oil to a skillet large enough to hold all chicken pieces in one layer without crowding (use two skillets if needed). Turn heat to high and add chicken, skin side down. Cook until well browned, 7-8 minutes. Turn chicken over and cook the other side for 7 minutes. (If too much fat has rendered in the pan, remove some with a spoon. You need about 2-3 tablespoons to be left in the pan.)
2. Add the halved garlic cloves, flip after two and a half minutes and add the olives, rosemary, and peppers.
3. Stir in the wine and chicken stock. As it bubbles, scrape any residue loose with a wooden spoon.
4. Reduce heat to medium-low, add tomatoes, and cook for 10 more minutes, stirring occasionally, until chicken reaches 165 degrees. If the juices in the pan reduce too much, add 2-3 tablespoons of chicken stock or wine. Chicken should be very tender and tomato skins should begin to crack.
5. Transfer to a platter and serve.