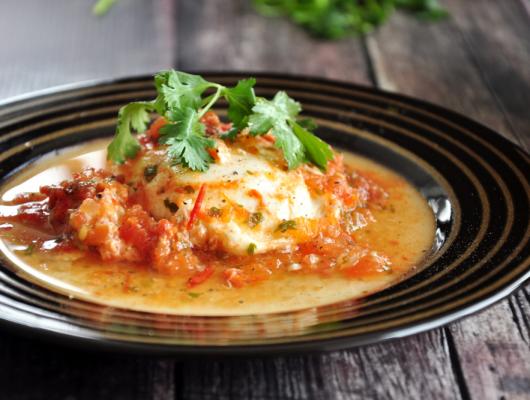 A quick, healthy and delicious breakfast, appetizer or side dish.
Ingredients
8 Roma tomatoes, roasted
1 cup fresh cilantro, firmly packed
3 cloves garlic
1 habanero pepper (optional)
1/2 cup white onion, roughly sliced
1/2 cup chicken broth or water
salt to taste
6 eggs
freshly ground black pepper
Preparation
1. Preheat oven to 350 °F. Roast Roma tomatoes for 10 minutes. In the meanwhile, prepare other ingredients.
2. When tomatoes are done, quarter them. Combine all ingredients in your food processor or blender. Add a pinch of salt. Blend for a few seconds until there're no big chucks left. You just made an awesome Salsa!
3. Scoop out 2 cups Salsa into a large non-stick skillet. Break and drop 6 eggs into the Salsa. Don't overlap the eggs.
4. Cover and bring to a boil (about 5 minutes). Bring the heat down to medium and simmer for another 3-5 minutes based on how well you'd like to have your eggs done.
5. Sprinkle with freshly ground black pepper and garnish with cilantro leaves. Serve!