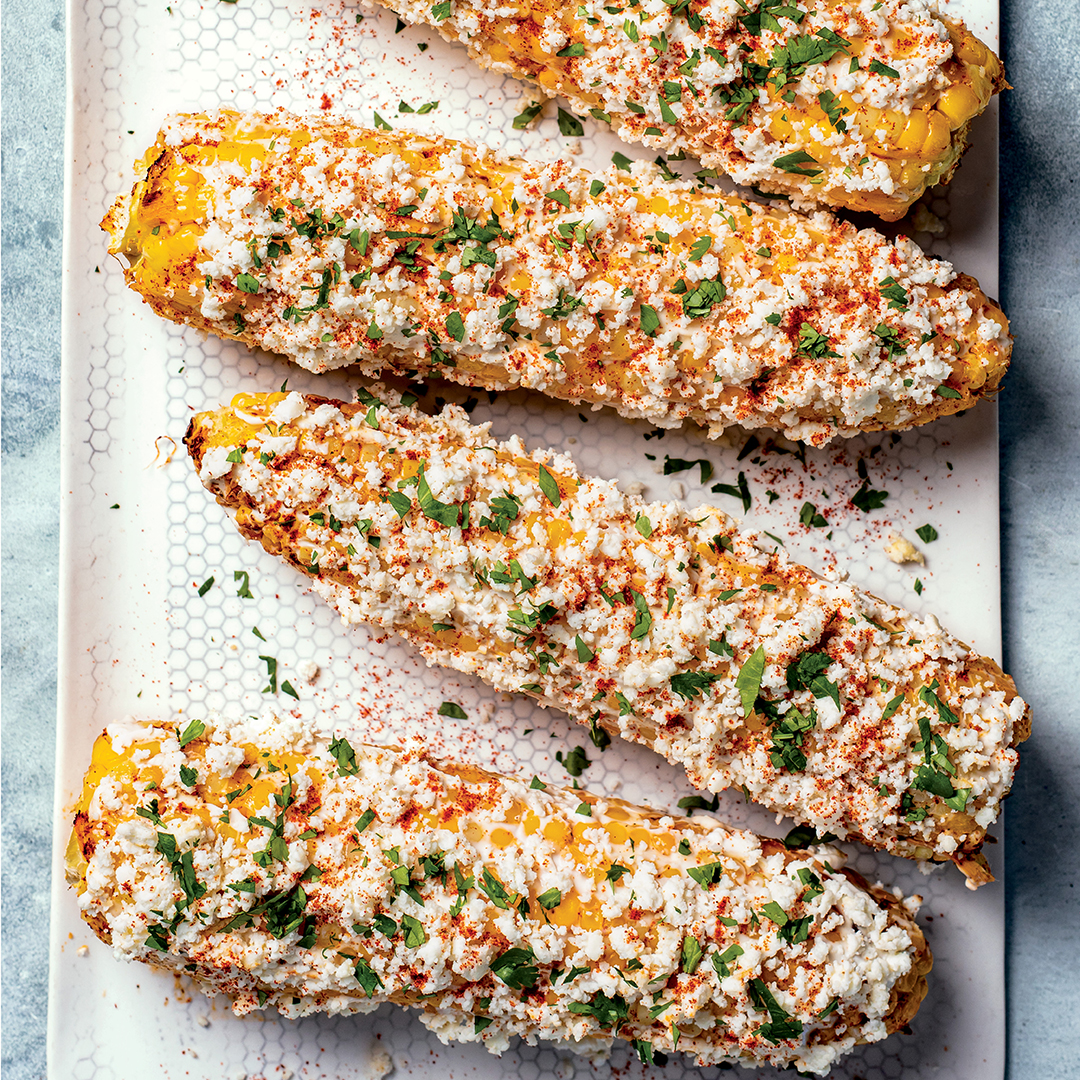 Often referred to as Mexican street corn, this dish is irresistible when corn reaches its peak in summer. You'll need a few plates or trays to keep the multistep process organized, but the corn assembly line will be well worth it in the end. Serve with Crispy Fried Chicken Sandwiches for the perfect outdoor picnic.
INGREDIENTS

4

 

ears of yellow corn

 

shucked

2

 

tbsp

 

unsalted butter

 

melted

1/2

 

tsp

 

chipotle chile powder

 

plus more for serving

Kosher salt and freshly ground black pepper

1/4

 

cup

 

mayonnaise

 

60 ml

1/4

 

cup

 

sour cream

 

2 oz/60 g

1/2

 

cup

 

Cotija cheese or queso fresco

 

crumbled, 2 1/2 oz/70 g

1/4

 

cup

 

chopped fresh cilantro

 

1/2 oz/15 g

1

 

lime

 

cut into wedges
INSTRUCTIONS
Place the corn on a large plate or rimmed baking sheet and brush the ears with the melted butter. In a small bowl, stir together the chipotle chile powder, 1/4 tsp salt, and a generous pinch of pepper. Sprinkle the spice mixture over the corn, rolling the ears to coat evenly.

Coat the Instant Pot air fryer basket with canola oil spray and add 2 ears of corn. Insert the basket into the pot and attach the air fryer lid. Press the Air Fry button and set the cook time for 12 minutes at 400°F (200°C), then press Start. Rotate the corn when prompted.

Meanwhile, in a small bowl, stir together the mayonnaise, sour cream, and 1/2 tsp salt. Place half of the cheese on a large plate. Set aside.

When the cooking time is up, use tongs to carefully transfer the corn to a clean plate or rimmed baking sheet. Brush the corn with some of the sour cream mixture and let rest for 1 minute, allowing the mixture to be absorbed. Brush the corn again with more sour cream mixture, reserving about half for the remaining corn, then roll in the cheese to coat evenly. Sprinkle with chile powder and half of the cilantro.

Repeat to cook the remaining corn. Transfer the remaining cheese to the plate and coat the corn with the remaining sour cream mixture, cheese, chile powder, and cilantro. Serve with lime wedges alongside.
Photo Credit:- Cosori Air Fryers