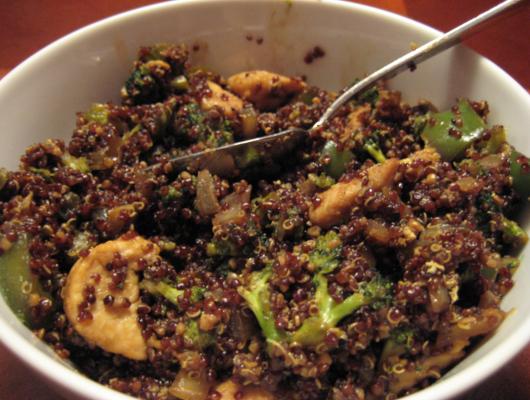 An adaptation to traditional stir fry, with a gluten free flair.
Ingredients
2 Chicken breasts
1 cup 'black' Quinoa (Roland Brand is great!)
1 large Green pepper
1/2 a medium onion
1 head of Broccoli
1 teaspoon Ginger powder
1 tablespoon Soy Sauce, We used San-J Gluten Free
(additional soy sauce as desired)
Preparation
1. Bring water to a boil and add Quinoa. When cooking time is about half way done add soy sauce. Set quinoa aside when completely cooked.
2. Dice Onion and place in a medium size wok along with a small amount of soy sauce to cook.
3. Cut peppers and broccoli to desired size and add to wok
4. Clean and cut chicken breast into small pieces. Season evenly with ginger powder. Add to Wok.
5. Cook ingredients until chicken is fully cooked, stirring in a small amount of soy sauce as desired.
6. When ingredients are cooked mix the quinoa into the wok. Stir throughly.
7. Serve and add additional seasonings as desired.