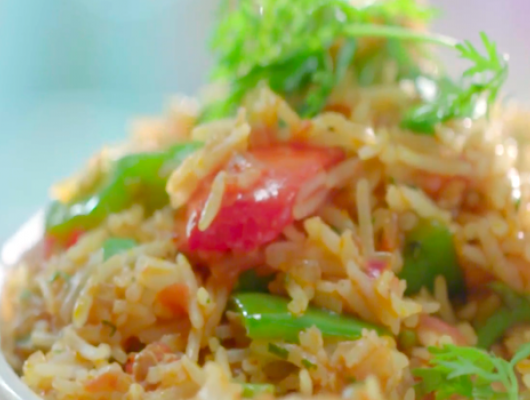 Get Expert Advice to make Schezwan Tawa Pulao by Harpal Recipe At Home with Delicious and Exotic Taste. Schezwan tawa Pulao is another mixed rice dish popular in Indian cuisine. Although some of its varieties are associated with Persian influence in north India, it is also mentioned in ancient Indian texts such as Yagnavalkya Smriti. Opinions differ on the differences between pulao and biryani, and whether there is a difference between the two at all.
Ingredients
5 tbsp Ching's Schezwan Chutney
2 tbsp Oil
1 tbsp Chopped Garlic
1 tsp Chopped Ginger
1 Chopped Onion
2 Chopped Tomatoes
Salt
1 1 /2 tbsp Pav Bhaji Masala
1 Diced Onion
½ Diced Capsicum
½ Cup Blanched Cauliflower
1 Diced Tomato
¼ cup Blanced Green Peas
1 Big Bowl Boiled Rice
1 tbsp Chopped Coriander
1 tbsp Butter
1 tbsp Coriander Leaves
Preparation
Step 1: Heat oil in a pan, add garlic, ginger and sauté. Add onion and sauté until golden brown
Step 2: Add chopped tomatoes, salt and pav bhaji masala and mix well.
Step 3:Add Chings Secret Schezwan Chutney and sauté.
Step 4: Add onion cubes, capsicum cubes , cauliflower, tomatoes cubes , green peas and sauté once again.
Step 5: Add rice into the pan, sprinkle some water and mix well.
Step 6: Add butter and chopped coriander and mix.
Step 7: Remove it in serving bowl and Serve Hot.