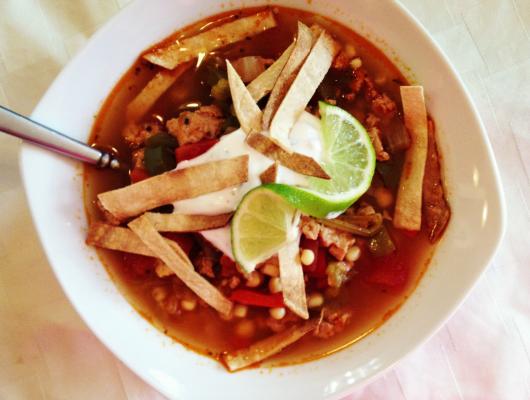 I love Mexican food and I love soup, so while working on my clean meals for the next week I came across a tortilla soup picture on Pinterest. I came up with my own version and it was seriously delicious!!! I devoured 2 bowls full and no guilt about it because its good for you! This soup is light and full of flavor. I use ground chicken here but you can easily use diced or shredded chicken as well. Full of bell peppers, chilies, tomatoes and homemade broth (store bought works fine too- preferably low sodium) and finished off with a non fat cilantro lime crema and baked corn tortilla strips. This will be a new favorite go to recipe!
Ingredients
1 1/2 lb lean ground chicken
1 red bell pepper, diced
1 green bell pepper, diced
1 onion, diced
2- 4 oz cans diced green chiles
3-4 ears of corn, kernels cut off
1- 15 oz can diced tomato
2 Tbsp chili powder
1-2 tsp cumin (its a preference thing)
1 Tbsp oregano
8 cups chicken broth
2 small bay leaves
2- 6 oz nonfat plain greek yogurt
3-4 Tbsp chopped cilantro
juice of a lime
3 cups cooked brown rice
lime wedges for garnish
6 corn tortillas, sliced and baked at 375 for about 10-12 mins until crisp
olive oil
salt & pepper
Preparation
1. Into a large pot, over medium heat, add in a drizzle of olive oil, the peppers, onion & chilies. Season lightly with salt and pepper. Cook until slightly softened. Stir in the bay leaves, oregano, cumin and chili powder.
2. Push the veggies off to the side of the pot and add the chicken to the clear side. Break up with a spoon as it begins to cook. Once cooked most of the way through, go ahead and mix everything together.
3. Stir in the corn, tomatoes and chicken broth. Simmer for 30 minutes covered and another 10 minutes or so uncovered.
4. For the cilantro lime crema… stir the yogurt, juice of a lime, the cilantro and a little salt and pepper.
5. Plate up the soup with a scoop of rice, the delicious soup, top with a dollop of crema, a lime wedge and the tortilla strips.