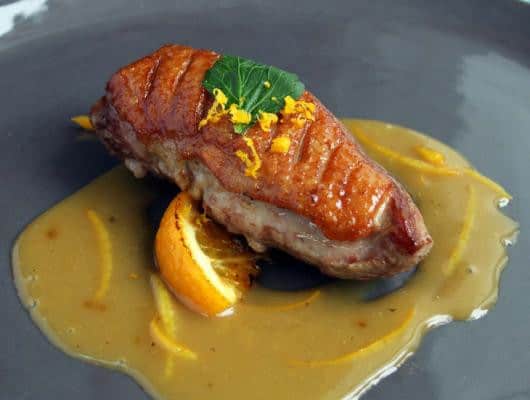 DESCRIPTION: Duck and orange have been living harmoniously since they first co-starred in the French dish, Duck a l'Orange.
Ingredients
2 duck breasts (770 g), skin on, de-boned
1 Tablespoon salt
2 teaspoons of olive oil (10 ml), divided to cook with
2 slices of fresh navel orange
1/2 medium onion (55 g), diced
Juice from 1 navel orange (100 g)
Zest from 1 navel orange (strips tied in a muslin parcel)
1/2 Tablespoon of arrowroot flour (4 g), for thickening sauce
1/2 cup of chicken broth (120 ml)
2 Tablespoons of fresh parsley (2 g), finely chopped for garnish
Additional grated orange zest for garnish (optional)
Preparation
1. Preheat the oven to 285°F / 140°C.
2. Score the duck skin and season the breast on both sides with salt. Heat one teaspoon olive oil in a pan and sear the duck breasts skin-side down over high heat until the skin has caramelised and crisped. Remove and transfer to a greased roasting tray. Place in the oven skin-side up to cook a little further while you finish the rest of the dish.
3. Using the same pan on the stove top, grill the two orange slices that will be used for garnish later. Remove from the pan and set aside.
4. To make the sauce, add the second teaspoon olive oil to the same pan and caramelise the onions over moderate heat until golden. Add the orange juice to deglaze as well as the muslin parcel containing the strips of orange zest. Cook for a minute or two, then remove from the heat and strain the sauce through a fine mesh sieve, discarding the onions – but not the muslin.
5. Return the strained sauce to the heat and open the muslin parcel of zest strips and add into the sauce. Whisk the arrowroot into the chicken stock in a small jug, then pour into the pan. Cook the sauce gently until it has sufficiently thickened.
6. Serve the duck with the sauce and garnish with the grilled orange garnish, parsley and additional finely grated orange zest.