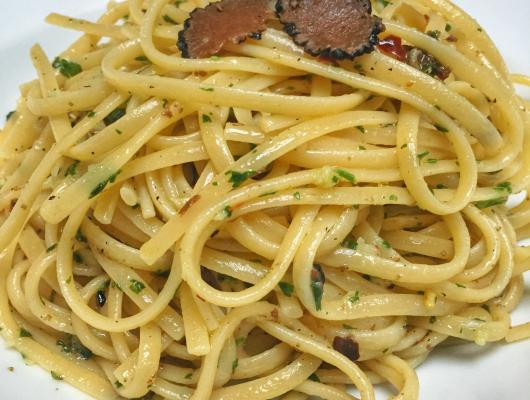 We used to have this a lot when we were at home. Pasta with garlic & oil is quick, simple and tasty. Back then, we used to either have it with a generous grating of parmesan or alternatively fry off some aubergines and add them to the pasta. It's amazing how sometimes, less is more and this one is certainly on my comfort food list. I have since made it slightly more indulgent by adding some black truffle and some truffle oil too. Though it sounds like a very expensive dish, fear not, the supermarket now stocks small pots of black truffle in salted water which is reasonably priced. The dish tastes just as good without the truffle, so this is purely optional.
Ingredients
100g linguini or spaghetti (I use Garafolo or Dececco),
2 x garlic cloves (crushed),
2 x tbsp. of freshly chopped parsley,
1 x black truffle (half sliced and half grated),
Grated parmesan
Drizzle of white truffle oil (I use M&S)
Salt and pepper (to taste)
Preparation
1. Place a pot of salted water on a high heat, add the pasta when the water boils and cook for 10 minutes (or according to packet instructions),
2. Meanwhile, in a frying pan lightly fry the garlic in a little olive oil for no more than a minute on a low heat,
3. Add the parsley to the garlic and cook for a further minute and then take off the heat,
4. When the pasta is ready, drain and add to the pan of garlic and parsley,
5. Grate half the black truffle and slice the rest,
6. Drizzle in some white truffle oil and serve with a grating of parmesan.