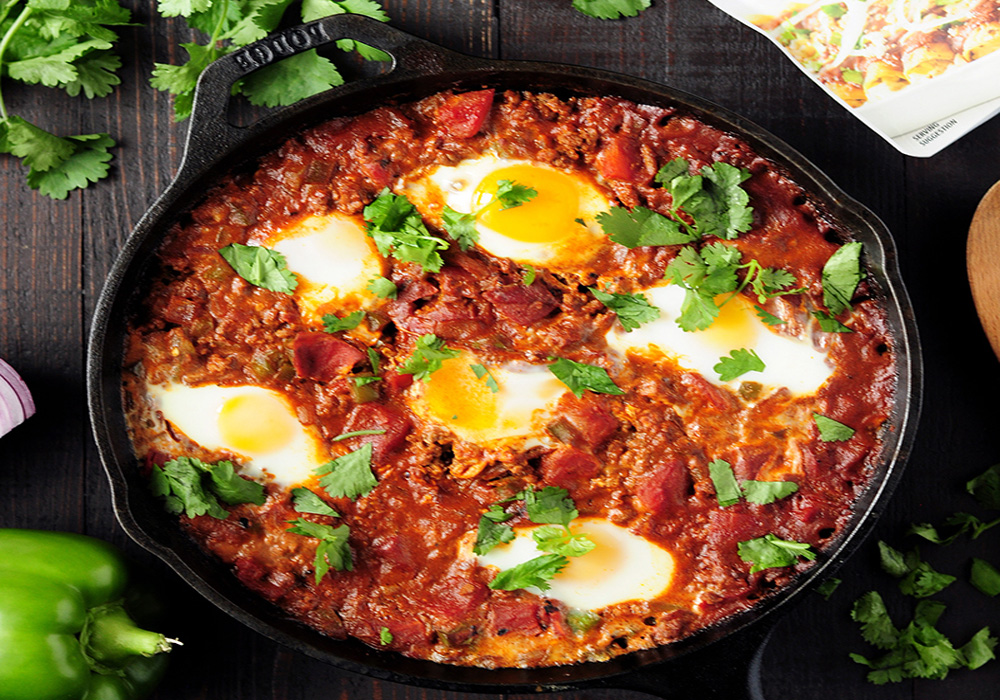 Easy 7-ingredient shakshuka recipe simmered in a tangy, aromatic red chili sauce with rich notes of cocoa, smoked paprika, and ancho chili.
Ingredients
1 pound lean ground beef
1 cup onion, diced
1 green bell pepper, diced
1 pouch Simply Organic Red Enchilada Simmer Sauce
1 (14.5-oz) can fire roasted diced tomatoes
6 eggs
Fresh cilantro and avocado for serving
Preparation
1. Preheat oven to 350 °F.
2. Heat up a 9-inch cast iron skillet over medium-high heat. Add beef, onion, and bell peppers. Use a wooden spatula to quickly break the beef into small pieces. Stir and cook until the beef is no longer pink, about 5 minutes.
3. Pour Simply Organic Red Enchilada Simmer Sauce into the beef mixture, followed by diced tomatoes. Stir and mix well.
4. Make a "well" using your spatula, crack an egg into the "well." Repeat this step with the rest of the eggs. Turn heat down to medium. Let it cook for about 2 minutes.
5. Transfer the shakshuka to oven and bake for 7 minutes, or until the egg white is set.
6. Garnish with fresh cilantro. Serve with avocados. Enjoy!