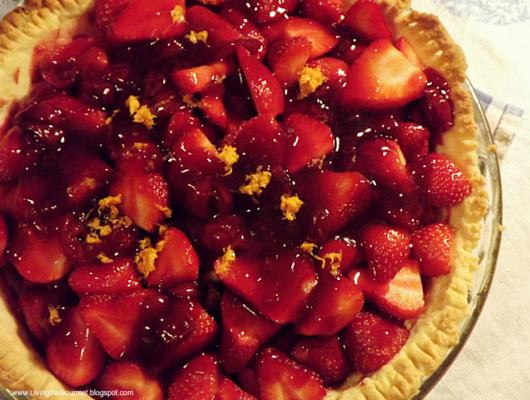 Ingredients
For tart you will need:
1 cup AP flour
6 tablespoons unsalted butter, cut into small pieces
1 tablespoon water
1 egg yolk
4 tablespoons confectioner's sugar
1 teaspoon vanilla extract
½ teaspoon orange zest
1 cup cherry preserves
2 pints fresh strawberries
1 cup whipping cream
Preparation
1. Preheat oven to 350 degrees F.
2. Sift flour onto a board or into a bowl. Make a well in the center. Add the butter, water, egg yolk, sugar, vanilla, and orange zest. Work the ingredients in the center, drawing in the flour until the dough is smooth.
3. Pat out the dough onto the bottom and sides of a pie plate. Prick the bottom and sides of the dough with a fork. Bake got 15-20 minutes, or until the pastry is light golden. Cool.
4. To make the glaze, put the cherry preserves in a small saucepan and melt it slowly over low heat. Cool slightly and brush over the bottom of the pastry.
5. Wash, hull and slice the strawberries. Fill the pie plate with the strawberries and top with remaining cherry glaze.
6. Whip cream with 1 tablespoon of confectioner's sugar until light and fluffy and serve with a slice of strawberry tart! Enjoy!