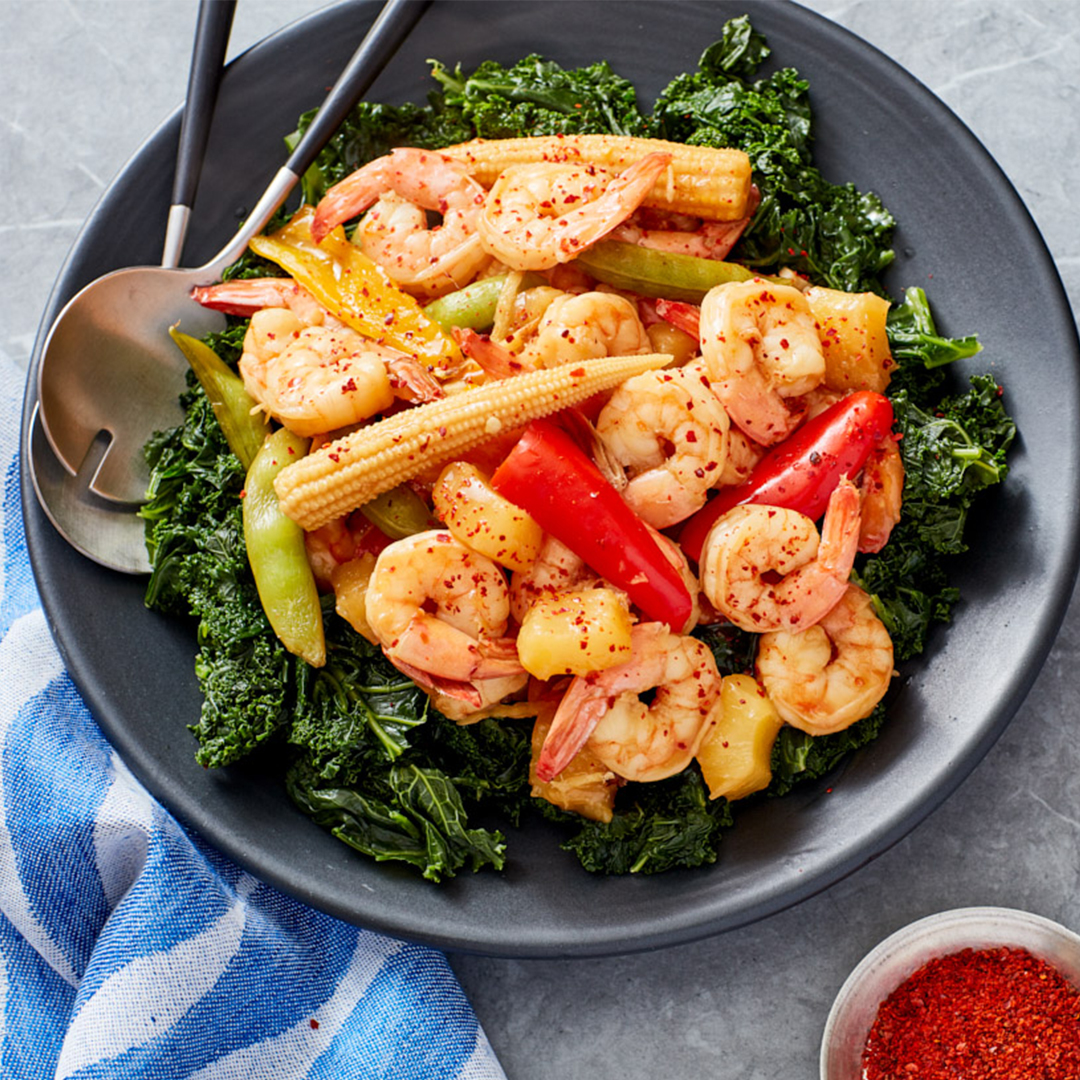 It takes several ingredients to create a good sweet-and-sour sauce. But the payoff is worth it when the meal is so tasty! Remember that shrimp are sold by the number it takes to make a pound, and words like "large" or "jumbo" are mere window dressing. To get the timing right, make sure you have shrimp that are sized at 35 count (or maybe 30) per pound. Also, just to make sure things are clear, buy frozen raw shrimp, not cooked "cocktail" shrimp.
INGREDIENTS
1

 

cup

 

canned drained pineapple chunks in juice

 

plus 1/4 cup juice from the can

1/2

 

cup

 

chicken broth

 

vegetable broth, or fish broth

1/4

 

cup

 

regular or reduced-sodium soy sauce or tamari

1/4

 

cup

 

granulated white sugar

1/4

 

cup

 

unseasoned rice vinegar

 

or 3 tbsp apple cider vinegar

1

 

tbsp

 

peeled and minced fresh ginger

2

 

tsp

 

peeled and minced garlic

1/4

 

tsp

 

red pepper flakes

1 1/2

 

lbs

 

frozen peeled and deveined raw medium shrimp

 

(30–35 per pound)

1

 

lb

 

frozen unseasoned stir-­fry vegetable blend

 

4 to 5 cups (any seasoning packet discarded)

2

 

tablespoons

 

cornstarch
INSTRUCTIONS
Stir the drained pineapple chunks (but not the juice), the broth, soy sauce or tamari, sugar, vinegar, ginger, garlic, and red pepper flakes in a 6‑quart Instant Pot. Add the frozen shrimp and vegetables to the pot and stir well. Lock the lid onto the pot.

Option 1 Max Pressure Cooker
Press Pressure cook on Max pressure for 0 minutes with the Keep Warm setting off.

Option 2 All Pressure Cookers
Press Pressure Cook or Manual on High pressure for 0 minutes with the Keep Warm setting off. The valve must be closed.

Use the quick-­release method to bring the pot's pressure back to normal. Unlatch the lid and open the cooker.

Press the button for SAUTÉ. Set it for MEDIUM, NORMAL, or CUSTOM 300°F and set the time for 5 minutes.

5. As the sauce comes to a simmer, whisk the reserved 1/4 cup pineapple juice and the cornstarch in a small bowl until smooth. Stir this mixture into the simmering sauce. Cook, stirring almost constantly, until thickened, less than 1 minute. Turn off the SAUTÉ function and remove the (hot!) insert from the pot to prevent the shrimp from overcooking. Pour the shrimp and all their sauce into a serving bowl.
RECIPE NOTES
Beyond
• For an 8-quart Instant Pot, you must increase all the ingredients by 50 percent.
• For more flavor, add 1/4 teaspoon five-spice powder to the pot with the red pepper flakes.
• The shrimp and their sauce can be ladled over cooked white or brown rice, particularly a long-grain rice. Or serve them over a bed of wilted spinach or kale.
• For a lot more flavor (and a lot more mess), substitute frozen deveined but peel-on shrimp. The shells do make up added weight, so we suggest you cut
the number of servings strictly to four. And you'll have to peel and eat the shrimp with your fingers. But the additional briny punch might be worth it.
• Substitute 1 1/2 pounds frozen sea scallops for the shrimp.