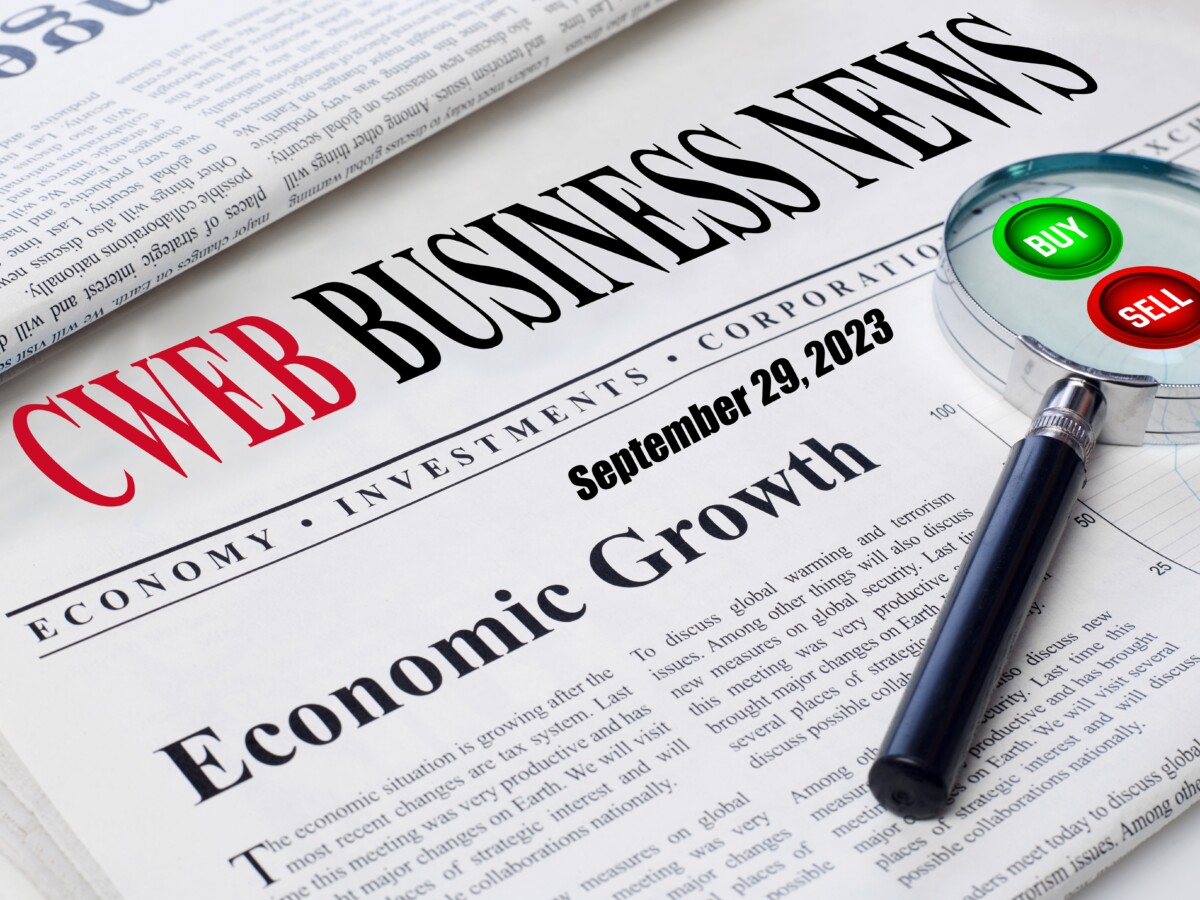 With the deadline approaching at 12:01 AM ET on Sunday, chances of averting a shutdown of the federal government are diminishing. If additional funding is not authorized, millions of federal workers and military personnel would be furloughed, the SEC will have little ability to regulate the market, and economic data releases will be delayed at a crucial time for the U.S. economy.
After the Federal Reserve signaled that interest rates would remain higher for longer, the bond market continued to sell off, causing U.S. Treasury returns to be on track for the worst month this year. Both the US 30-year yield (US30Y) and the US 10-year yield (US10Y) have risen to their highest levels in more than a decade as a result of the recent selloff.
The average US long-term mortgage rate has hit 7.31%, the highest level in nearly 23 years. The average long-term U.S. mortgage rate rose this week to its highest level in nearly 23 years, dealing a further blow to would-be homebuyers in a market where prices have been steadily rising for quite some time.
On Thursday, investors fled from European government bonds as fears grew that central banks would maintain high interest rates for an extended period of time, and as the Italian budget deficit was greater than projected.
It's National Coffee Day in 2023, and to celebrate, coffee shops like Dunkin', Krispy Kreme, Peet's, and others are giving away free beverages while supplies last. In honor of today's National Coffee Day, businesses across the United States are providing free coffee samples, selling discounted coffee, and providing other deals.
Each state filed a lawsuit against Yelp. This Thursday, the user review company filed a lawsuit against Texas Attorney General Ken Paxton to prevent him from changing the designation of crisis pregnancy centers to read "does not offer abortions or referrals to abortion providers." As expected, Paxton filed a lawsuit against Yelp over the deceptive name. Yelp has refuted claims that the designation is misleading.
Shares of Nike (NKE) rose 7.9% after the market closed on Thursday, as quarterly profits above analyst forecasts. However, proactive pricing initiatives mitigated the negative effects of rising product costs and unfavourable foreign exchange rates, and margins are projected to rise further in the second quarter.
FC Barcelona is accused of paying over $7 million in bribes to businesses associated with the former vice president of the officiating committee in Spanish football.
Toys R Us is planning a massive comeback in the United States, opening as many as 24 new flagship locations before the holiday season is over, in addition to a simultaneous rollout in airports and on cruise ships.
Financial dealings between LVMH CEO Bernard Arnault and Russian businessman Nikolai Sarkisov are under scrutiny by the Paris public prosecutor's office.
On Thursday, the French newspaper Le Monde claimed, citing France's Tracfin financial intelligence arm, that Arnault had lent money to Sarkisov so that he could purchase property in an Alpine resort. French authorities conducted a search on an Nvidia office on suspicion of anti-competitive behavior.
Stock of Blue Apron jumped by more than 130 percent. A once-popular meal kit delivery firm announced its acquisition on Friday. Blue Apron is being acquired by Wonder Group, a meal delivery business led by former Walmart and Jet executive Marc Lore, for $13 per share, valuing Blue Apron at $103 million. This is a significant drop from the company's peak valuation of $2 billion just six years ago.
As the price of a gallon of petrol in California approaches $7, more than twice the national average, Republican lawmakers have urged Governor Newsom to temporarily suspend the tax. "You guys are crazy"
Legal action is being taken against Elon Musk's Tesla by a government anti-discrimination commission in the United States over allegations that the firm tolerated "pervasive racial harassment" of Black workers at its flagship California automobile production and retaliated against those who complained.
Revenue for Carnival is up, beating projections, but the company is not optimistic about future profits. With the continued surge in post-Covid travel supporting airline traffic and rival cruise operators for much of the year, Carnival swung to an adjusted profit of 86 cents per share for the three months ending in August, the group's fiscal third quarter, with revenues surging 60% from last year to an all-time high of $6.9 billion.
After a judge denied a motion by Uber, DoorDash, and Grubhub to delay the implementation of the city's new minimum wage standards, delivery workers in New York City will see a considerable increase in their compensation.
Other Current Topics:
The Chinese trade council has formally asked the U.S. to lift its prohibition on technology investment.
An executive claims that Microsoft considered buying Apple so that Bing would get more traffic.
In the wake of waning automobile affordability tailwinds, shares of CarMax (KMX) have fallen.
OpenAI's ChatGPT now has real-time web searching capabilities.
Hawaiian Electric (HE) defends pre-fire measures.
Stocks to watch with positive momentum and Buy Rating:
Sundial (SNDL), Tesla (TSLA), Groupon (GRPN), Chase Bank (JPM), Microsoft (MSFT), GOOGL, Pay Pal (PYPL), UBS, Walmart (WMT), Amazon (AMZN), Facebook (META),