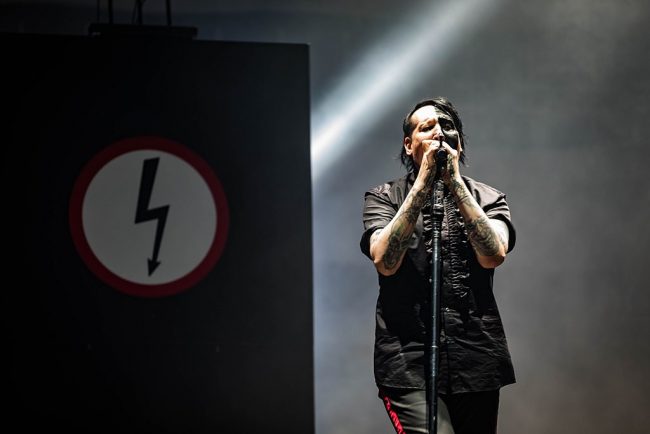 Marilyn Manson has been axed from popular show 'American Gods' on Starz. He has also been removed from an episode of AMC's Shudder Creepshow, a horror anthology series.
Marilyn Manson, who's actual name is Brian Warner, joined the Starz series in its third season as a guest star. He played the role of Johan Wengren, who is the lead singer of Blood Death, the Viking death metal band.
Manson played a pivotal role in "The Unseen" an episode based on the series which is based on a Neil Gaiman 2001 novel. The episode was telecast last night on the premium cable network.
The singer is supposed to appear one more time in the third season and this could give the show an opportunity to figure out how to remove him from the show.
On Monday morning Evan Rachel Wood publicly accused the songwriter of abuse on Instagram. Following this post, three other women came forward and also share their allegations against the singer.
Although Wood had spoken up about domestic abuse earlier, she had never mentioned Manson's name. She said that he had groomed her when she was a teenager and had horribly abused her for a year. She also said that he had manipulated and brainwashed her into submission.
She added that she was finally ready to stop living in fear of retaliation or slander or blackmail by anyone and hence she had publicly spoken not only about the abuse but had finally named her abuser.
Manson was 38 and Wood was 19 when had publicly announced their relationship in 2007 and three years later they were briefly engaged. There had been cracks in their relationship and there was a public underlying hint of abuse when Manson had given an interview in 2009 but his representatives had downplayed his comments as rhetoric used by him to advance sales of his album.
In 2009 he had said that he had fantasies everyday about "smashing her head with a sledgehammer." However, these comments were not taking seriously at that time and Wood had not mentioned him by name.
After one of American Gods' main stars Yetide Badaki said that she stood with Evan Rachel Wood and the other brave women who exposed his abuse, action followed almost immediately. There had been murmurs of action to be taken against him but the tweet from Bilquis (Badaki) sealed the deal to drop him.