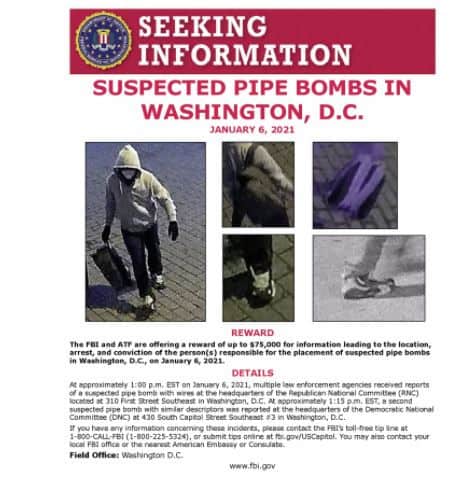 On Thursday, the office of the federal authorities said that they would offer up to $75,000 for information on the person whom they believe was responsible for placing pipes bombs in Washington DC.
The official FBI handle took to Twitter not only offering a reward but also to ask for any tips that could lead to information about location of the suspect, or lead to their arrest and conviction, whether it would be a single individual or more than one person.
These pipe bombs were planted at the offices of both the Republican and the Democratic National Committee  offices on January 6.
On Tuesday, a law enforcement official told Fox News that finding the person who had placed the pipe bombs was "top priority" before the inauguration on Wednesday.
#ICYMI: @ATFWashington and #FBIWFO increased the reward to up to $75,000 for information about the person(s) responsible for placing suspected pipe bombs in Washington, D.C., on January 6. Call 1-800-CALL-FBI with info or submit to https://t.co/NNj84wkNJP. https://t.co/946jU0n3qJ pic.twitter.com/qcVYhqLmdL

— FBI Washington Field (@FBIWFO) January 22, 2021
On Wednesday around 12.45 p.m. a call was made from the Republican National Committee's (RNC) office that a pipe bomb had been found outside. A team of agents and explosive experts from agencies including the Capitol Police, the FBI and the Bureau of Alcohol, Tobacco, Firearms and Explosives went to investigate the site.
About half an hour later, when the investigation team was still at the RNC HQ, another call was received by the Capitol Police and its teams that a similar bomb was found near the Democratic National Committee's (DNC) office.
Two law enforcement officials told the Associated Press that both the explosives found outside the RNC and DNC were similar. They were about a foot long. They had end caps and their wiring had been attached to a timer.
A suspect's images have been released. The image shows a person wearing a grey-colored sweatshirt with a hoodie covering their head. The pants are dark colored, and the shoes are a combination of white and a dark color. The suspect seems to be holding a knapsack.
If you have any information concerning these incidents, please contact the FBI's toll-free tip line at 1-800-CALL-FBI (1-800-225-5324), or submit tips online at fbi.gov/USCapitol. You may also contact your local FBI office or the nearest American Embassy or Consulate.
Photos- FBI.gov