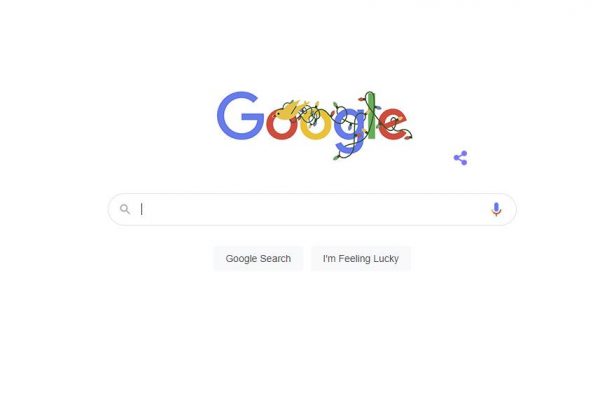 Today, December First's google doodle uses a cute little yellow bird wrapping bright fairy lights around its colorful logo. Many important festivals are celebrated around the world in December.
 Here's a list with the dates.
 Hannukah (10-18 December)
 Hannukah, an eight-day Jewish festival, begins on the 25th day of the Hebrew month, Kislev. This year it falls on December 10 and commemorates the rededication of the Second Temple in Jerusalem. This happened during the Maccabean Revolt against the Seleucid Empire.
 A menorah, a candlestick with 9 branches  is lit. One branch above or below the others holds the candle that is used to light the other eight. One candle in each branch is lit every night. Some Jews feast during this festival making latkes and other traditional foods and exchange gifts.
 Yule (21 December to 1 January)
 Yule or Yuletide is celebrated by the Germans. It has pagan roots relating to the Norse God Odin as well as the Anglo-Saxon festival, Modraniht. People exchange gifts, get together for meals and celebrate using a yule log.
 Festivus (23 December)
 This is a festival that is parody to Christmas and consumerism. Popularized by the "Seinfeld" episode "The Strike" it is celebrated by standing around a plain aluminum pole, as opposed to a Christmas Tree and there's "airing of grievances" and "feats of strength". 
Christmas (25 December)
 Christmas is celebrated as the birth of Jesus Christ, though his exact birth is unknown. Some celebrate it on December 24 or even in January.
 Gifts are exchanged, feasts are shared, and people go for Mass to churches. Many families set up a decorated Christmas tree. Gifts placed beneath the tree  and opened on Christmas morning or Christmas Eve.
Boxing Day (26 December)
 The day after Christmas is called Boxing Day. Alms boxes are given to the poor by churches, a tradition that was started in the Middle Ages.
 Postmen, errand boys and servants also expect to receive "Christmas Boxes" from their masters/employers.
 Kwanzaa (26 December-1 January)
 Maulana Karenga started this festival for African Americans to "give African Americans an alternative to the existing holiday and an opportunity to celebrate their history, rather than simply imitate the practice of the dominant society." It is a result of the Black Power Movement and was first celebrated in 1966.
 New Year's Eve (31December)
 New Year's Eve is celebrated vicariously worldwide. Governments outdo each other with celebratory fireworks and lighting displays. This year celebrations will be muted though many are eagerly waiting for this "pandemic" year to end.
 Source inews