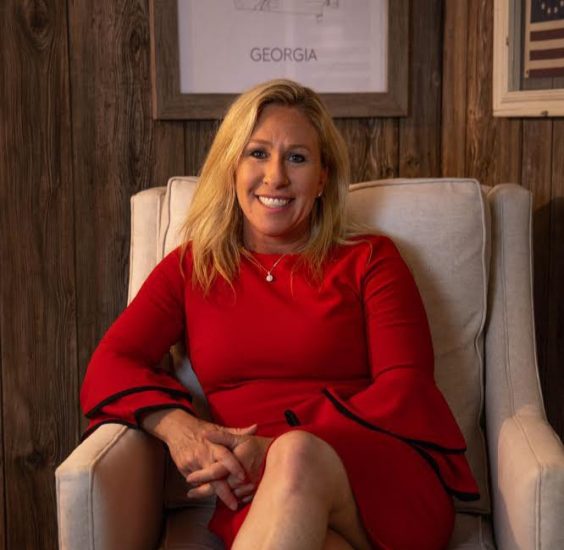 On Thursday, the House voted and removed Rep. Marjorie Taylor Greene R-Ga from committee assignments. Democrats had asked the Republican leadership to punish the first time congresswoman for her advocacy of conspiracy theories and her approval of violence against Democrats in social media  posts.
The freshman congresswoman lost the vote as the Democrats are in majority in the House. As 11 Republicans joined in to vote against her the final vote was 230-199 against her. She has been removed from the her seats on the budget as well as on the education and labor committees.
Majority leader Steny Hoyer D-Md exhibited one of her Facebook posts which showed an image of her with an AR-15 alongside three Democratic Reps. Alexandria Ocasio-Cortez, Ilhan Omar and Tlaib above whom there was a banner titled "Squad's Worst Nightmare."
Image Credit Twitter Marjorie Taylor Greene
GOP Congresswoman Marjorie Taylor Greene Says Secret Jewish Space Laser Caused Wildfires
Hoyer objected to this and said that they were people and their colleagues and not "the Squad." He also mentioned that a couple of years ago House Republicans had removed Rep. Steve King of Iowa for publicly questioning why the phrase "white supremacy" was considered to be offensive. King was defeated later that year and is no longer in Congress.
Congress members are assigned seats in committees to shine in front of their constituencies. This is a way by which members can make an impact, especially for freshmen. However, unparliamentary behavior is frowned upon by most members across party lines. Greene's behavior, her fiery rhetoric and baseless conspiracy theories are the reason why she has been removed.
Just last week CNN unearthed a slew of Facebook posts with Marjorie Green Taylor either liking controversial posts or putting them up on her Facebook. She liked a post which called for violence against House Speaker Nancy Pelosi. She supported weird and false conspiracy theories. She supported QAnon, whose members were part of the Capitol riot. She exhibited anti-semitic behavior. She harassed a former Parkland student, who is now a gun reform advocate. The list goes on and on.
 Congresswoman Liz Cheney retains House GOP leadership position despite impeachment vote against Trump