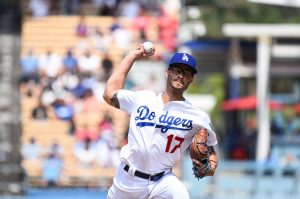 Image Credit: (Juan Ocampo/Los Angeles Dodgers)
It was predictable. It was inevitable. It was only a matter of time and Joe Kelly of the Los Angeles Dodgers struck first. Then MLB struck with an 8-game suspension for intentionally throwing at Houston Astros 3rd baseman, Alex Bregman. In what had been anticipated between the two rivals who faced each other in the 2017 World Series, took only a matter of 6 innings, during their first meeting of 2020.
The Dodgers have been dealing with a lot of resentment after finding out this offseason that the Astros cheated. They implemented an illegal and elaborate sign-stealing scheme during 2017. The Astros were fined $5 million for the antics by MLB, their Manager A.J. Hinch was fired, and the team will lose their 1st two round draft picks for 2 years.
When both clubs took the field Tuesday night in Houston, words were exchanged, and dugouts cleared in the 6th inning. Kelly, known throughout MLB as an instigator, threw fastballs up-and-in to both Alex Bregman and Carlos Correa, while also shouting at the batters as he walked off the mound. Astros Manager Dusty Baker told reporters that Kelly said "Nice swing, bitch" to Correa after striking him out in the 6th. He then got Jose Altuve out of one-pitch. Then after throwing three straight balls to Bregman, the fourth pitch sailed right over the backside of his head for ball four, and Bregman nonchalantly went to first base.
Kelly wasn't even on the 2017 Dodgers team, but he was on the Red Sox team that lost to the Astros in the 2017 ALDS. It should also be noted that the Red Sox would go on to defeat the Astros in the following year's ALCS on their way to a 2018 World Series title, but the Red Sox were also involved in a sign-stealing scandal of their own this off season.
This offseason, before the COVID-19 pandemic forced a four-month delay to the start of the 2020 season, MLB commissioner Rob Manfred sent out memos warning all teams about intentionally throwing at Astro players throughout the 2020 season.
"Retaliation in-game by throwing at a batter intentionally will not be tolerated" Manfred said. "Whether it's Houston or anybody else, it's dangerous and it's not helpful to the current situation."
Keeping his word, Manfred issued the lengthiest suspension for an MLB player I can think of and eight-games for a relief pitcher such as Joe Kelly, is the equivalent to 22-games during a normal 162 game season. However, the 2020 season has been shortened to only 60-games.
Manfred definitely sent a message to the Dodgers and the entire MLB and threw down the hammer on Kelly with the 8-game suspension, which Kelly elected to appeal, making him available to pitch until a hearing.  Good luck with that Joe.
MLB also suspended Dodgers manager Dave Roberts one game for his actions, and he'll serve his suspension during Wednesday's series finale against Houston.Astros manager Dusty Baker was fined an undisclosed amount for his role in the incident between the two clubs.
Pitchers throwing at batters is considered part of the game for the players that dates back over 100 years. However, MLB does not tolerate it as shown by the hefty suspension of Kelly.In the meantime, the Dodgers & Astros will return to action Tonight and don't be surprised if there's more fireworks between both clubs.