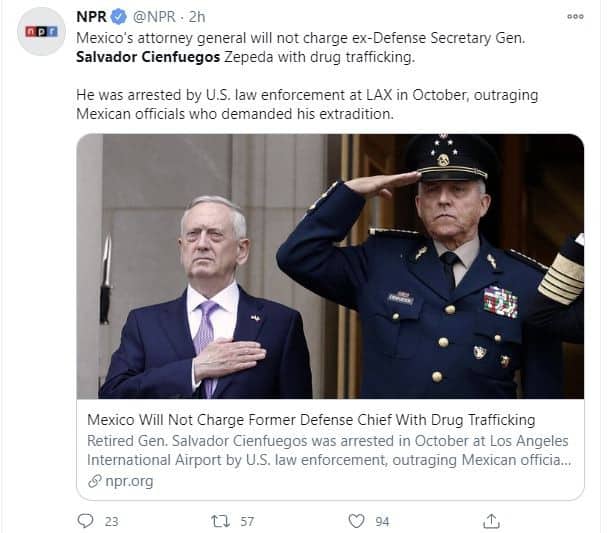 An ex-defense minister, General Salvador Cienfuegos, has been exonerated in a drug case. U.S. prosecutors allege that he was a drug capo with the nickname "The Godfather."
The General was arrested at a Los Angeles airport last October. He allegedly shielded a multi-million-dollar conspiracy to smuggle drugs into the nation.
A controversial backroom deal was struck, and charges were dropped in November. He was allowed to return to Mexico to face charges in his own country.
On Thursday, the Mexican attorney general's office announced that their investigations found that he had no association or communication with "any criminal group" and he that was absolved of all charges.
Lopez Obrador, Mexico's nationalist president, defended this decision and accused the U.S. Drug Enforcement Agency (DEA) of "fabricating" evidence against the General. The president relies heavily on the military and it is alleged that they were behind his release and exoneration.
There is a lot of resentment both in the U.S. and in Mexico as people believe that the 72-year-old general apparently escaped instead of being prosecuted.
Mike Vigil, Former chief of international operations, DEA, told AP that this decision could be the straw that broke the camel's back with reference to US-Mexican cooperation in counter-drug activities.
Vigil also said that "despite the political rhetoric of wanting to eliminate corruption, such is obviously not the case."
He added, "The rule of law has been significantly violated."